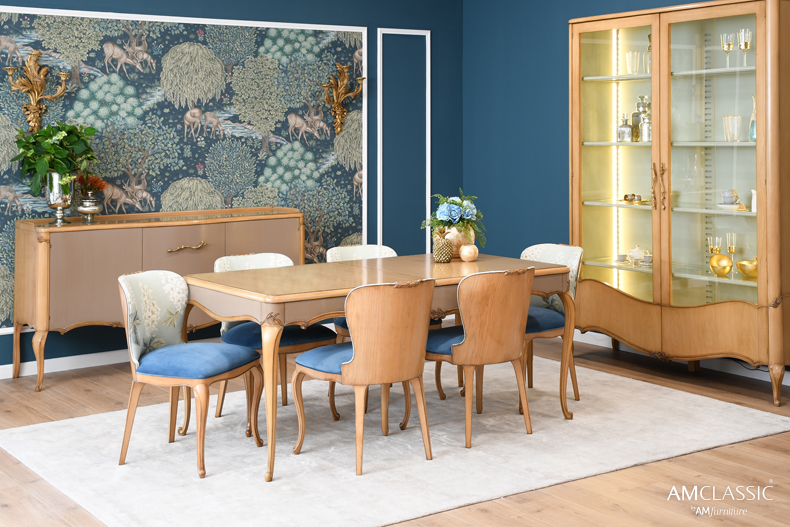 Inspired by the Italian city, the story of Florence Collection started with the desire of bringing nature into your home, evoking historic relics and masterpieces. It's a reinterpretation of modern classic styles, with a romantic twist, that combines natural elements with the refinement of sober yet uplifting colors.
The delicate beauty of Florence dining room is a result of a contrasting game between the freshness of the dark blue upholstery and the pale hues that abound in this collection. Made of cherry wood, the silhouettes of each piece reflect the transparent modern influence on the classical style. The dainty yet intricate woodcarving details are a representation of the superb handcrafting techniques and the love that AMClassic nurtures for each creation.
AMclassic: Since 1962
AMClassic, an AMfurniture brand, is filled with history and passion. Founded in 1962, it is now an established reference in the furniture sector worldwide, whose presence in over 50 countries is a testimony of quality, singularity and know-how.
Inspired by neoclassical furniture styles, AMClassic emerges from the creation of delicate, ornamented and beautifully carved pieces, creating a timeless atmosphere, which mixes elegance and color perfectly.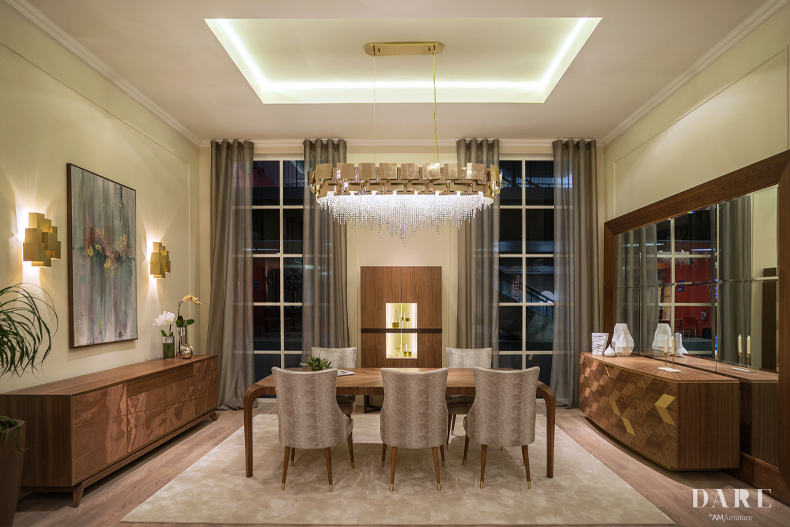 Dare to discover Dare by AMfurniture
All eyes are on Dare's living room for it is imposing and inspiring, ideal for those who value magnificent woodworking and refined design. Get to know each piece of AMfurniture's luxurious brand: on the left, Feel sideboard joins together the softness of walnut and the roughness of stone veneer. Avalon chairs are delicate yet proud pieces, combining the seeming seriousness of walnut with a soft velvety texture. On the right, Avalon Gold sideboard, a piece that is undoubtedly endowed with originality and a brilliant design; right in the center, Enjoy dining table letting its superb marquetry shine through; and, finally, Reach bar, an exquisite showcase that will give the  spotlight to the most cherished décor items.
Dare by AMfurniture
Dare by AMfurniture is the embodiment of luxury decor and high-end design. Singular and exclusive, gathers the best of refined contemporary furniture and the bespoke quality of handmade indulgence. Dare was born of a process of re-interpretation of contemporary styles, mixing know-how and craftsmanship with noble wood, subtle brass overlays and exceptional marquetry.
Dare is an AMfurniture brand, which means its values and principles have deep roots. Founded in 1962 is now an established reference in the furniture sector worldwide. Its presence in over 50 countries is a testimony of quality, singularity and know-how