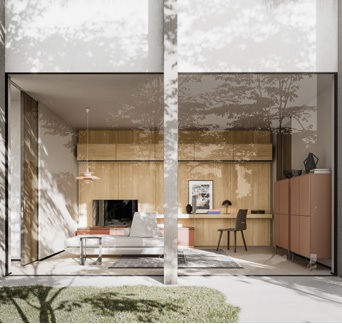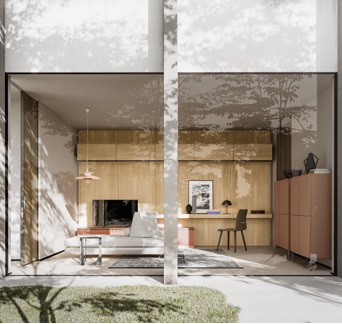 The clothing and fashion sector has often been a forerunner when it comes to identifying social and cultural trends. And it has shown skill in converting them, ahead of the game, into products consistent with the sudden cultural and stylistic changes to which we have become accustomed in the modern age, and which show no signs of letting up. By drawing on this reflection from a seemingly unrelated sector, Santalucia Mobili has created its new interior design project "LA CASA HOMY".
In a similar way to companies in the fashion sector, Santalucia Mobili wants to help its customers to "dress" their homes, from the bedroom through to the living room. With this project, the aim is to offer coherent product design while using highly versatile materials to create spaces that go well together – to do what, in fashion, is referred to as creating an "overall look", i.e. offering a
comprehensive finish tailored to individual needs.
The stand at the Hábitat trade fair will be divided into two different apartment spaces, both with a living and bedroom area, only in different styles: one more bourgeois with darker shades, the other more vivid with bolder colour choices. Two different styles that perfectly represent the two different sides to the company. The wardrobe with a Liscia door and additional accessorised compartments is a seemingly simple piece but, like everything that looks simple, it hides something more. It offers astounding
attention to detail and a meticulously studied design to serve its purpose. The niches inserted between the doors not only add aesthetic character, they are also extremely practical and can be used to house a shoe rack or clothes rail, or they can simply be left as open compartments to use as you wish.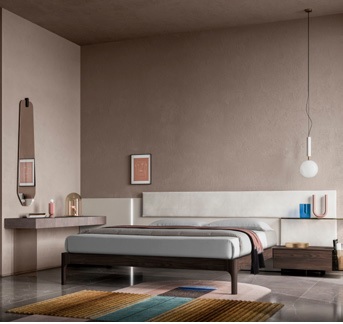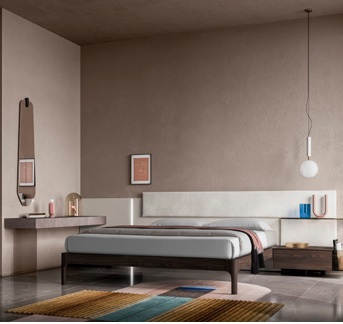 The Scacco bed is one of our best sellers. For the occasion, the bed is presented in one of its latest and most unusual configurations, namely with an additional top featuring an elegant glass leg, serving either as a small desk or make-up area.
Scacco is the ideal bed range to meet your every need. It offers a rich selection of modular units that can be used in different configurations both for the headboard panels and frame. This bed is perfect not only for individuals looking to furnish their bedrooms but also for interior designers seeking specific, targeted designs for the products they choose for their projects.
Beyond the bedroom, Santalucia Mobili also has a lot to offer for your living area, including a wide range of modular compositions and finished pieces such as sideboards and various other accessories. At the Hábitat trade fair, two different living area designs will be on display, exploring two distinct design approaches: one using structural side panels and the other storage units.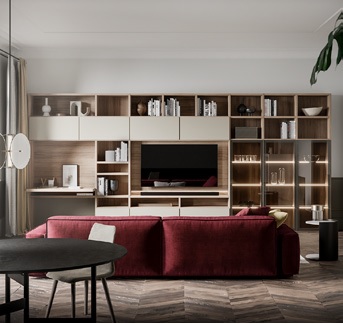 The living room compositions are visually rich and structured, representing the design flair and capabilities the company has been advocating for many years. Small desks, display units, TV panelling and built-in lighting all combine harmoniously in recognisable features and clearly defined functions. A careful selection of finishes ensures Santalucia Mobili's products fit seamlessly in various environments with different styles, and helps you create a coherent look throughout the rooms in the house.