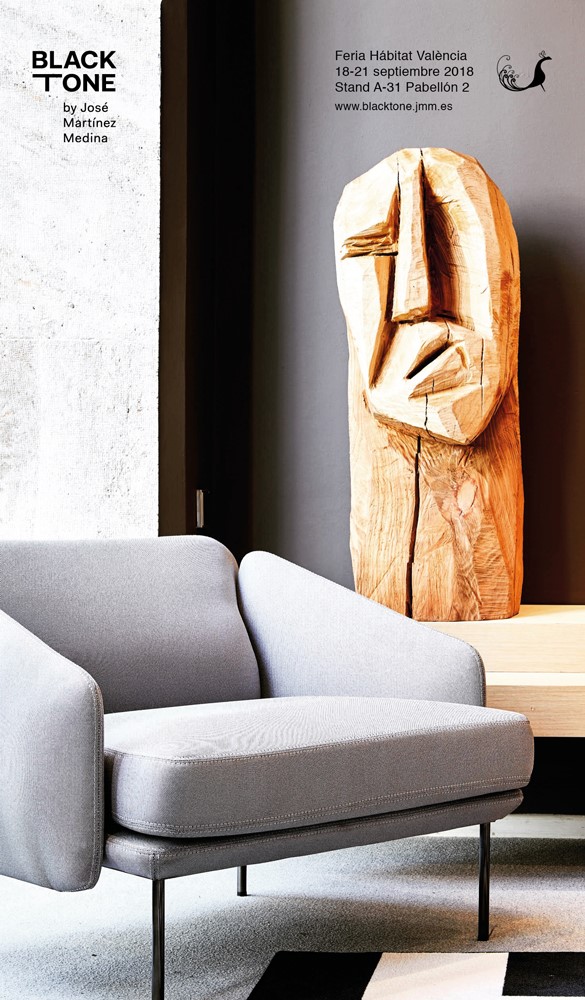 One more year, JMM together with its new brand, BlackTone, will be present at the next trade fair known as FERIA HÁBITAT VALÈNCIA. The Valencian firm, a reference with regard to office and made-to-contract furniture for over 120 years, will be presenting its new proposals in Hall 2 Stand A31.
JMM will be exhibiting designs that stand out for their high quality; we will see innovative surfaces and calculated volumes that integrate technology, thereby creating a furniture range that speaks of doing business, coming to agreements, of undertaking projects and sharing visions.
 BLACK TONE
Among the new items of the recently-born brand, we have the KONG sofa. This sophisticated lounge piece designed by Francesc Rifé is one of the best-sellers in BlackTone and is now available as a modular sofa for installations. There is also the option of comprising a small table/ledge to place objects.
The stool known as DRY will also be shown at the stand; this is a creation by the emerging designer Eli Gutiérrez; she is the latest addition to the BlackTone design team. Her first contribution to the collection is an elegant tall stool with a light metallic structure and upholstered seat with sinuous forms and combining various textiles.
The sofa known as NEO, also designed by Francesc Rifé, will also be exhibited as a two-seater.
José Martínez-Medina JMM
LA MESA
The first proposal by Francesc Rifé for JMM is a collection of senior management tables with pronounced overhang and lightness, all available in various finishes.
Together with the NEUTRA collection by Mario Ruiz, it functions as the access collection to the brand.
BIG SKEL
The SKEL meeting-room table, designed by José Martínez-Medina, has a light structure presented in an XL format with a round top and an interesting sequence of plies and wood veneers.