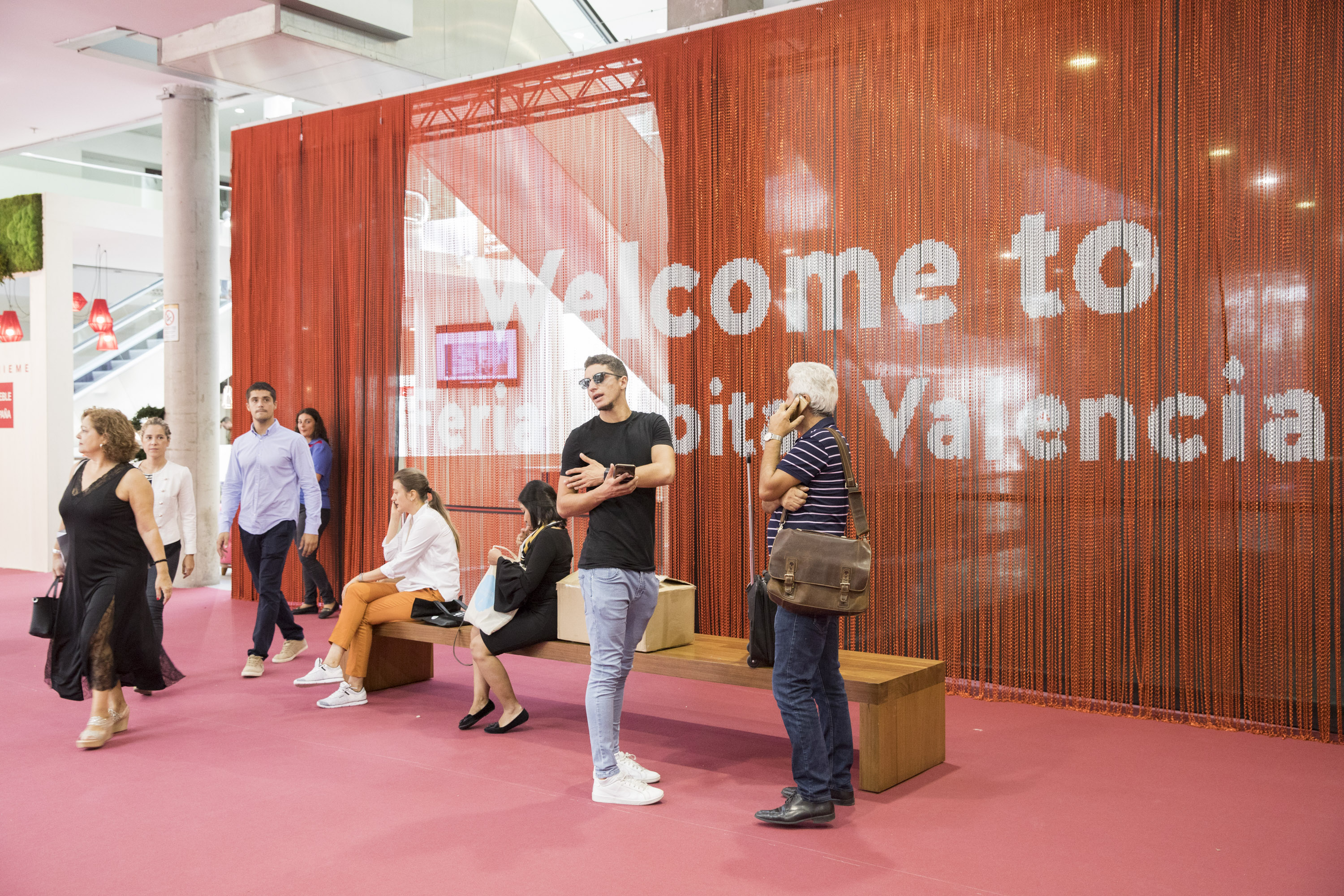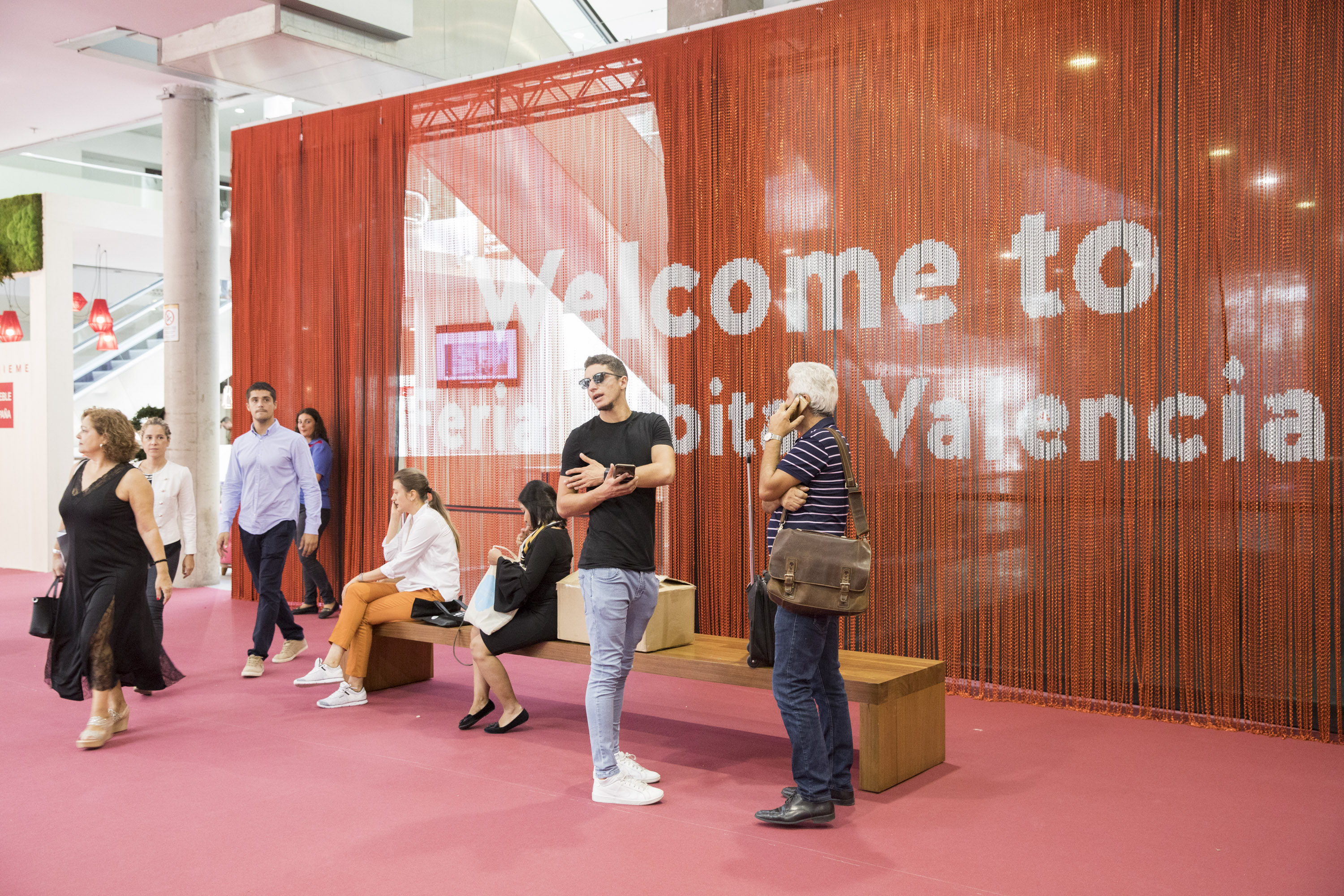 Hábitat'19 is all ready to go. Valencia is celebrating its recent designation as Design Capital of the World with the biggest edition of Feria Hábitat Valencia of recent years, opening this Tuesday at Feria Valencia.
The furniture, lighting and decor fair will be hosting the offering of over 500 exhibitors – 21% more than last year – following a 45% increase in the space occupied, which this year is 65,000m2. 25,000 professionals are expected to visit, from 65 countries.
Outdoor table that use solar energy, voice-assisted folding beds and designs by Patricia Urquiola, Marcel WandersandChristophePilletare just some of the innovations on show.
Valencia, 15th September 2019.-Nobody will want to miss Feria Hábitat Valencia 2019. Not even the World Design Organization which, having just a few days ago designated Valencia the Design Capital of the World 2022is joining the best Feria Hábitat Valencia of recent years. The fair runs from 17th to 20th this month and will be the first major event that the Mediterranean city has celebrated winning an accolade that no other Spanish city has ever been awarded.
It is in the context of this exciting news that Hábitat will be opening its doors on Tuesday. The furniture, décor and lighting event will be showcasing products from 503 international companies and brands, a 21% increase on last year's number. Habitat has also grown exponentially in terms of the amount of space dedicated to the exhibits which, at 65,000m2, is 45% up on last year.
What this means for the fair as a whole is that it will be occupying the four halls on Feria Valencia's Level 2, plus two full halls on the Benimàmet venue's Level 3. As a result of this expansion there will be twice as many design and cutting edge exhibitors and a 35% bigger offering from modern and upholstered furniture and bedroom furniture suppliers.
Foreign exhibitor number 50% up
The Fair is also representing more areas of Spain and more foreign countries this year. Of the total number of companies and brands taking part, 36% are based in the ComunitatValenciana (28% more than last year), whilst 40% are from the rest of the country (12% up on 2019). There is also a significantly higher percentage of foreign manufacturers and brands than last year. These are high-level operators from Belgium, China,the Czech Republic, France, Germany, Italy, Poland, Portugal, Romania, Spain, Turkey and the United Kingdom.
As to visitor numbers, the expectation is optimistic. The fair's organisers have doubled the number of guests invited to take part in the International Buyers Mission and has sent more than 1800 invitations direct to buyers and specifiers in as many as 65 countries. This number is in addition to the drive launched by trade associations Anieme and Fedai, with support from IVACE Internacional and IVEX, who have equally confirmed that importers of furniture, decorative items and lighting will be coming to the fair from all over the world next week. The rate of ticket bookings has increased too over the last few weeks, with the number 15% up on last year.
Production and exports of furniture on the rise
The fair is taking place against a positive backdrop too, with the furniture industry appearing resilient in the face of the global economic slowdown. Figures from the Observatorio Español del Mercado del Mueble(Spanish Furniture Market Observatory) at theInstituto Tecnológico AIDIMME (AIDIMME Technology Institute) indicatethat furniture manufacturing was worth 4,483 million euros in 2018, 2.7% up on the previous year.
Exports, for their part, are still the driving force of the industry, achieving sustained growth. According to ANIEME, exports of Spanish furniture rose 5.3% in the first half of 2019, exceeding 1,131 million euros in value. The figures are even better for the ComunitatValenciana, which exported 281.8 million euros-worth of furniture in the first six months of the year – a 10.2% increase on last year.
Solar tables and international design
The fair will be showing a good number of innovations, new collections and solutions for interiors and home furnishings. These include the latest creations by international figures such as Patricia Urquiola, ChristophePillet, Jasper Morrison, Marcel Wanders, Jaime Hayón, Gabriel Teixidó, Francesc Rifé, Ximo Roca, Mario Ruizand the eternalVicent Martínez.
The exhibitors, too, will be hoping to stunthe market with innovations that combine the latest in design with new technology. One example is a Valencia based manufacturer showing an outdoor table that works using solar energy, with built-in solar panels and sockets to plug electronic devices into.  Also on show at Hábitat are bedrooms for youngsters featuring folding beds with mechanisms activated by voice assistants such as Siri and Amazon's Alexa.
Ecology and sustainability also play a major part in the innovations on show at Hábitat.  These include mattresses that feature a special fabric that eliminates electromagnetic frequencies from mobile phones and reclaimed plastic from the Mediterranean recycled into designer mattresses.
Another key item on the agenda for the week is the series of lectures being delivered in the Ágora nude on Level 3 and that will address the relationship between contract projects, design and interior design, and digital challenges and the consumer's experience. Speakers include renowned professionals such as Fran Silvestre, Ramón Esteve and Jaime Sanahuja. Hábitat also features a retrospective exhibition of the work of Valencian architectRamón Esteve that includes his most significant pieces of work, as well as a cycle of conferences and professional meetings organized by Anieme together with Amazon about digital commerce and its application to the furniture sector.