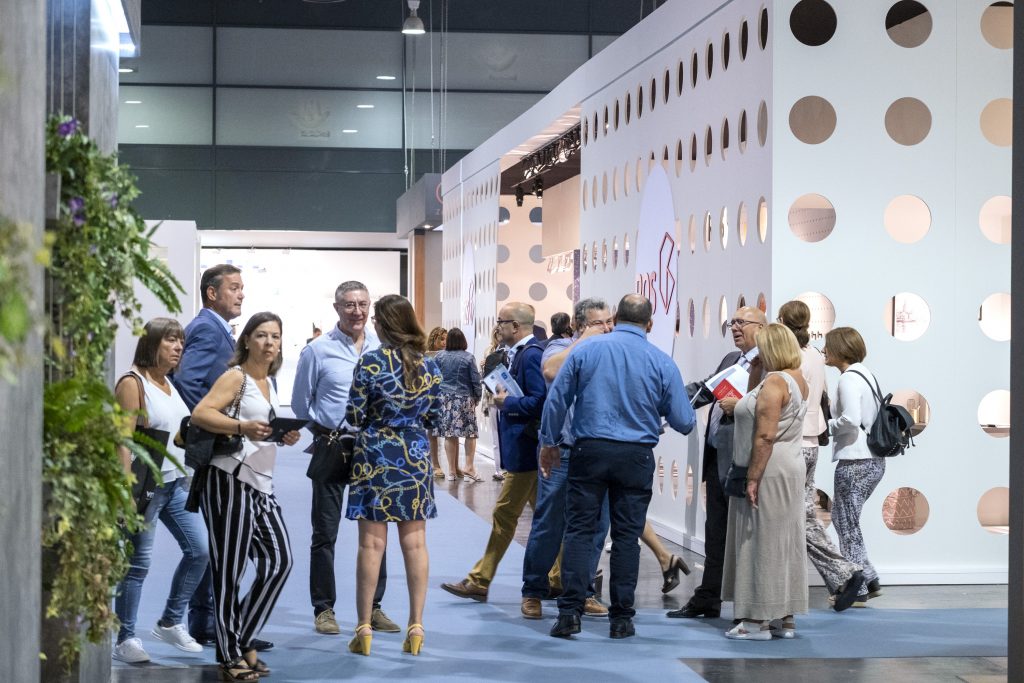 Retail members of Europa Muebles, Grupo Ventura, Grupo ACEM, Merkamueble, Muebles La Fábrica, Kibuc, Intermobil, Círculo Muebles, Globaldecó and Grup Catalunya Mobiliari have confirmed they will be visiting the fair.
Valencia, 25th July 2022.- The furniture and interiors retail and distribution sector is poised to play a major role at the upcoming edition of Feria Hábitat Valencia. The fair is set to take place from 20th to 23rd this coming September, alongside Espacio Cocina SICI and Home Textiles Premium by Textilhogar.
The professionals in this industry form one of the cornerstones of Hábitat, together with other visitor profiles such as specifiers, interior designers and contract specialists. With this in mind, the upcoming edition of Hábitat will once again feature retailers as a key element of the show in the form of the shops themselves and the directors of Spain's leading retail chains and franchises.
In fact, Hábitat has already received confirmations and bookings from almost all the shops that are part of some of the most prominent and best-known buying and retail groups in Spain. Many of these are well-established both regionally and countrywide.
The shops belong to Grupo ACEM, the European Furniture Merchants Association or to the network of shops and sales centres belonging to brands such as Merkamueble and Muebles la Fábrica. Almost the entire network of Kibuc, Intermobil and Círculo Muebles shopshave confirmed they will be coming to Hábitat, as have professionals from Globaldecó and Grup Catalunya Mobiliari. A significant contingent of professionals from Europa Muebles and Grupo Ventura Muebleshave likewisecommitted to attending the fair.
Go shopping and have meetings at Hábitat
What does Feria Hábitat València have to offer businesses? Definitely the possibility of seeing the vast majority of your usual suppliers and expanding your portfolio with the latest new products and collections from today's on-trend international manufacturers. Also, many of these leading furniture retail and distribution groups that will be attending as visitors will also be taking advantage of the opportunity the fair affords for them to bring their members together and hold corporate and internal meetings and conventions at Feria Valencia.
It should be remembered that sales and distribution of furniture and all other products for interiors are currently very buoyant in Spain. The pandemic and the months of lockdown people lived through prompted a 'rebound effect' in the industry, with high demand for items with which to refresh the home.
It is worth highlighting in this regard that sales of home furniture rose 19.4% in Spain over the last year to a value of 1,630 million euros, according to Trade Observatory DBK Informa. Plus, this year activity and business centred on home renovations is growing 6 percentage points ahead of last year, according to market report Houzz 2022.
Feria Hábitat Valencia is the foremost fair for 'made in Spain' interiors and is now positioned as Spain's most representative, international and influential event for the industry, with a wide-ranging showcase of furniture, lighting, décor, upholstery and sleep products. A total of 32,796 visitors flocked to the last edition of the fair, with 15% coming from 70 different countries. Hábitat 2022 has already opened registration for interiors professionals to obtain their free entrance tickets tothe fair, which can be downloaded via this link: https://n9.cl/13a20