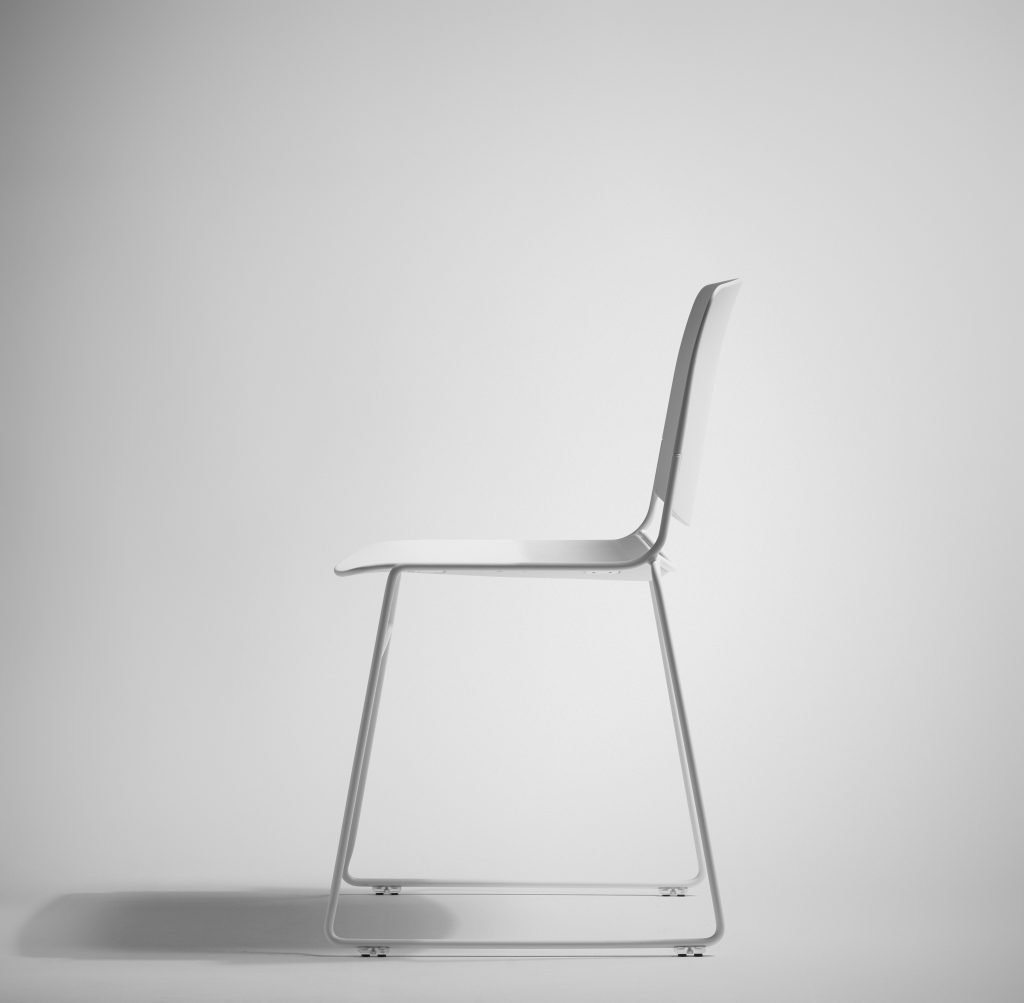 The new MASS Chair, designed by Javier Cuñado and his ITEM Designworks team for SELLEX, is a multipurpose, lightweight and easy to handle chair that comes in different formats: Basic Chair, Chair with Armrests and High Chair. It is "super-stackable" with a stacking space of 18 mm between chairs, managing to stack up to 40 units at 1.70 m height over trolley.
The fact of being one of the most stackable seating on the market, makes MASS a very appropriate chair family to equip multifunctional spaces in which the number of seats needed varies depending on the event: congress halls, auditoriums, meeting rooms, etc. In this way, when chairs are not being used they can be stored without barely taking up space.
With a timeless and refined design, MASS Chair has a backrest of only 5.5 mm thick, which gives it lightness without renouncing to be a sturdy seating.
Both the seat and the backrest are manufactured in textured polypropylene and they are available in any of the standard colours that we offer at SELLEX. In this case, the frame finish is epoxy textured coat, leaving the chrome due to environmental reasons. Also, the seat can be upholstered.
MASS, a functional chair
The three versions of MASS Chair include a range of accessories that allow MASS to be, above all, a functional chair.
One of those accessories is a very practical writing tablet that can be put on and removed at any time without tools. It is anti-panic because once is placed in vertical position it falls by its own weight and it is placed in its original position, allowing people to move comfortably by the rows.
Another characteristic to highlight is its seat and row numbering system. It is easy to assemble and disassemble, very useful in case of numbered rooms.
Likewise, the linking device allows joining chairs to keep the same space among them, achieving a homogeneous and ordered ensemble.
A seating that integrates into the space
As Javier Cuñado (ITEM Designworks) explains, MASS is a seating "with a clean and timeless aesthetic" that covers a wide range of uses and scenarios. MASS can "integrate into the space" where is located, a palace of justice, an auditorium or a multipurpose hotel room.
This MASS mimicry is the result of design and functionality coexistence. Its creator sees MASS as a product full of nuances and well resolved details. "Its timelessness and discreet elegance, together with its functionality make MASS, an intelligent product" says Cuñado.
A mutual understanding relationship
It is not the first time that SELLEX collaborates with Javier Cuñado in furniture design and this time repeats because the experience has always been good. The company from Gipuzkoa values the technical knowledge of the designer and it was convinced that he could overcome the challenge that this new project supposed.
For his part, Javier Cuñado did not hesitate to accept the challenge because he believes that SELLEX is "a committed company with a clear orientation to Design of User Experiences", with whom he says he maintains "a very collaborative mutual understanding relationship".
An opinion shared by the SELLEX team: "Solve the details with care, do not settle for the easy, take another step… We share this attitude with Javier Cuñado" says Miguel Jimenez, General Manager at SELLEX.
About SELLEX
SELLEX is a company that manufactures Design Furniture for Equipments: Hospitals, Hotels, Passenger Terminals, Offices, Funeral Homes, etc.  Collaborates with prestigious designers, such as Lievore Altherr Molina, Mario Ruiz, Burkhard Vogtherr, Carlos Tíscar or Gemma Bernal among others, being a main and relevant support to having SELLEX furniture worldwide
About Javier Cuñado
Studied Industrial Engineering in Bilbao and later graduated in Product Design at Ravensbourne College of Design in London.
In 1988 founded Item Design in which after twenty years of activity he developed his creativity and technical knowledge to make unique and viable product development projects in virtually all fields of industrial design.