DESIGNED BY CARLES FAUS.
AVA (main pic)
Outdoor furniture with a Mediterranean style. Ava is an outdoor furniture collection with a Mediterranean style and an evocative character that is transmitted especially through the presence, in the structure of the seats, of an element made of rope, inspired by latticework.
Includes various types of seats (sofas, armchair, dining chair and a stool), as well as different types of tables (dining room, centre, side and high bar types).
The repertoire is completed by a lounger and a rocker, a piece that contributes even more to the design of that playful and relaxed atmosphere, typical of the Mediterranean style.
Designed by the architecture studio of the Va- lencian Carles Faus, in correspondence with this combination of geometry and Mediterranean style, Ava is a collection of contrasts, alternating smooth surfaces with curves, strong shapes with lightness, large volumes upholstered with light structures, and industrial materials with warm and natural materials.
ABOUT CARLES FAUS
With a background in both architecture and engineering, Carles Faus embarked on his journey by establishing his Alge- mesí-based studio in 2015.
Over the years, the studio's growth has been nothing short of remarkable. It culminated in the unveiling of one of their ear- ly masterpieces, the "Carmen House." This distinctive dwelling garnered widespread acclaim.
At the heart of Carles Faus' architectural marvels lies the essence of the Mediterranean. This timeless charm is meticu- lously woven into contemporary minimalism and innovative cons- truction methods. His designs are a tribute to the rich tapestry of Mediterranean architecture, interpreted through a language of simplicity.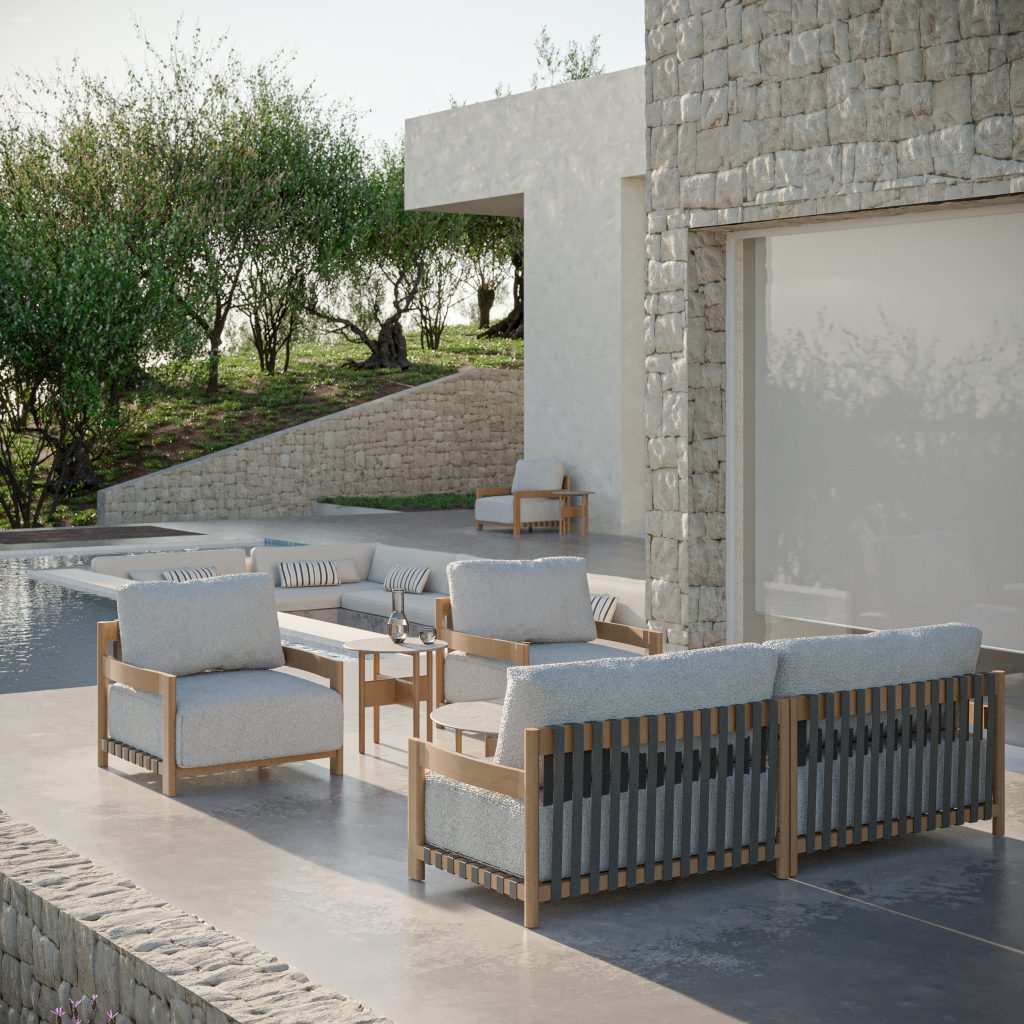 DESIGNED BY FRANCESC RIFÉ.
NATURA
Collection of outdoor furniture with a warm and understated design.
Natura is a collection of outdoor furniture with a warm and understa- ted design. The use of iroko wood in its structures, combining flat crossbars and curved joints, conveys the elegance and serenity typical of contemporary Scandinavian design.
Corded reinforcements on the seat frames, functioning as backrests and bases, establish a connection between Nordic craftsmanship with intricate details and the exquisite craftsmanship of the Mediterranean.
The Natura Collection boasts a versatile range of outdoor lounges, including individual armchairs, deep sofas with or without chaise longue, and a variety of auxiliary and center tables in different dimensions. This variety of elements allows for various configurations, from small resting areas with individual seats to setups with a more nume- rous or collective character.
ABOUT FRANCESC RIFÉ
Authentic in their expression, architectural and minimalist in style the designs of Francesc Rifé are noteworthy for their meticulous and elegant struc- tural details and design. He has had his own studio in Barcelona since 1994 specialising in inte-rior design and industrial de-sign projects as well as ephe-meral stands and art direction, his work has been recognised with numerous national and international awards.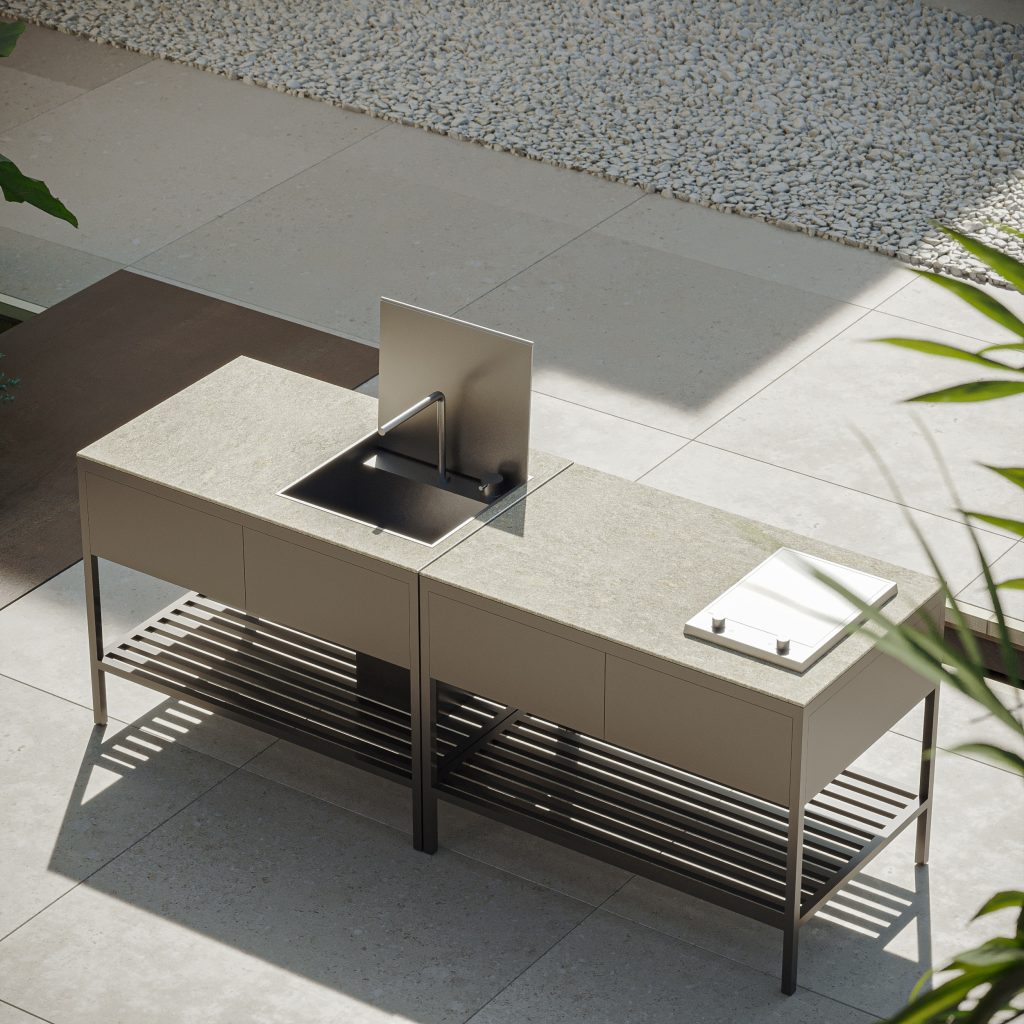 DESIGNED BY
OISIDE DESIGN STUDIO.
ETERNA
OICOOK
Enjoy the outdoors with all the comforts of an indoor kitchen.
ETERNA is our outdoor kitchen model from the OiCook collection with a more industrial, modular and light aesthetic. Its design is based on a single module size, whose structure has a mesh shelf at the base that exposes its entire lower half. This not only accentua- tes its lighter and more industrial character compared to the other OiCook designs, but also makes it more accessible and easier to as- semble, even by the user himself.
The design of the Eterna outdoor kitchen mo- dule can be customized by leaving the coun- tertop free, as a work surface, or incorporating different cooking elements and a sink.
It measures 120 x 78 cm, so with just two elements you can compose a kitchen of 240cm long with all the basic necessities, including the possibility of adding two drawer unit refrigerators.
The countertop, however, is made of MDI porcelain material, available in five different finishes. A material resistant to both the harsh exposu- re to the weather that an outdoor kitchen experiences as well as cuts, stains and splashes from cooking. It can be equipped with a ceramic hob, barbecue or teppanyaki plate from Barazza, accessories made in AISI 316 thick stainless steel, especially for exteriors.
In addition, one of the most functio- nal, elegant and understated details of Eterna is that the sink is made entirely of stainless steel and incor- porates a folding faucet and a lid, allowing it to be kept hidden to take advantage of that space as a surface when its not in use. It also prevents dirt from entering the bucket, an extra feature that is appreciated in an outdoor kitchen.
MORE ABOUT
OISIDE DESIGN STUDIO
OISIDE develops its collections in collaboration with talented designers and architects, with the help of its design team.
Innovative design both aesthe- tically and technically, with a sophisticated and timeless look combined with ingenious detai- ls. This same team is the same that carries out the research processes for new systems and finishes to improve the resis- tance of OISIDE materials and upholstery.
ABOUT OISIDE
OISIDE is a Spanish firm specialized in the design and manufacture of outdoor furniture for contract and residential projects. With more than 20 years of experience behind it, OISIDE is a company with a significant international presence that works with architects and designers from all over the world. The production of its collections is carried out entirely in Spain through expert manufacturing of the highest quality that allows OISIDE to offer a high degree of customization through its designs.
Pol. Industrial El Saladar. C/La Morera, 13 Apdo.120. 30850 Totana, Múrcia
T. +34 968 41 80 83
oiside@oiside.com
oiside.com