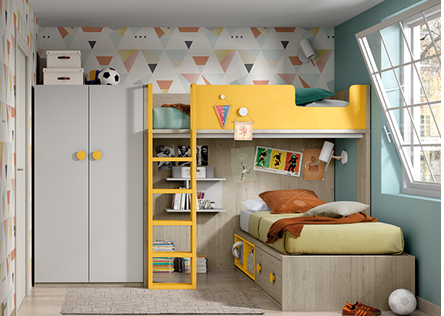 ROS1, S.A. was born out of our passion for wood and good work. On each of the bricks that shape our walls, a sentence has been has been deeply written: we manufacture space solutions. The productive model of ROS1, S.A. allows to give an answer to any furniture need: for babies, for kids, for teenagers and also for the contract sector.
In January 2017, our brand launched a new catalogue devoted to KIDs furniture. OLDSCHOOL KIDS is a fresh proposal, trendy and based on the real needs of our customers and our millenial followers. They explain to us exactly how they feel, what they need and what is relevant to their bedrooms and their lives. There are plenty of new ideas! bi-beds are an example.
ROS bi-bed keeps the same size in both the upper and the lower bed, keeping the same total size. A new development that our customers appreciate. Another new concept in the catalogue is  the bunk bed with lower free space and a whole line of complements to adapt in order to create unique spaces: wardrobes, upper shelves, beds, desks… whatever our customers need can be found and combined in order to create dynamic and organized bedrooms. A technically developed collection that allows kids to tidy up the bedroom properly and parents to be happy with it!
Another main issue in the catalogue OLDSCHOOL are the TRACK compact beds. This collection provides  a lot of space to keep those items that one never nows where to keep: a guitar, a skate, skis… big room for big activities! Every single gap in the bdroom is useful.
And our last surprise… ROS is ahead to the market by providing kids bedrooms connected to the world. The new catalogue OLDSCHOOL introduces connectivity to the furniture sector: USB connectors, speakers, bluetooth and inductive phone chargers integrated to the desks. You can not believe it? Come and see, we will be very pleased to explain it to you! Listening to your favourite music, connecting your phone or charging batteries will be easy in a ROS bedroom.
Our wardrobes collection is also waiting for you, with a lot of new concepts, sizes, fittings, ideas and designs.
In our new catalogue OLDSCHOOL you will get a bedroom completely adapted to the needs of your customers, full of design, flexibility and, the key for our success: full of passion.