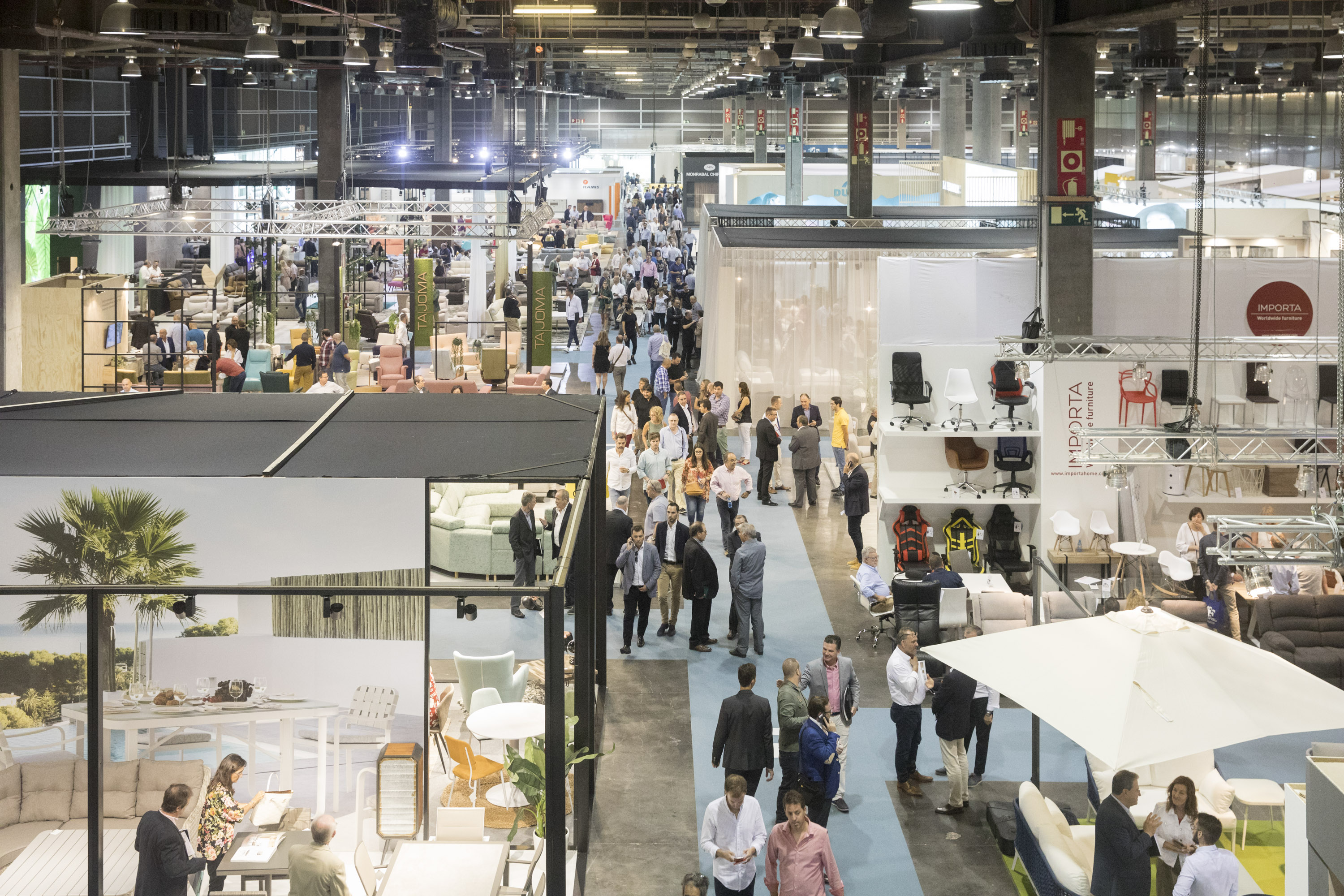 The event at Feria Valencia will be housed over two levels and across six halls. Design will be on Level 3 and Haute and Contemporary Décor on Level 2.
Valencia, March 4 2019.- The biggest Hábitat of recent years. The next edition of Feria Hábitat Valencia, which takes place from 17th to 20th September, is set to be its best incarnation yet, featuring two extra halls full of exhibits and taking up a total of 65,000 square metres of exhibit space. The increase comes in response to high demand from Spanish and international companies and as of today and with seven months to go before the fair opens its doors, 85% of the exhibit space available in the six halls that will house the offering has already been sold.
The high proportion of exhibitors returning – 98% of those at last year's fair intended to return – together with successive additions of new exhibitors from both Spain and, especially, the European markets, meant not only that the four halls occupied for the 2017 fair were retained for the 2018 show but that it was decided to take a qualitative leap forward this year and up the space even further by adding another two halls.
"Since we launched the new Hábitat Project in September 2017, which marked a return to the essence of the best Furniture Fair, our aim has been to grow slowly and sustainably, with the priority always being to offer both exhibitors and visitors the best possible service, whilst focusing the scope of our initiatives on the domestic, international and contract markets," says fair director Daniel Marco. What this means, he adds, is that "we have had to respond this year to the industry's needs and to the faith that an increasing number of companies are placing in Feria Hábitat Valencia. 2019 will be a key year that will see us take yet another step forward in the process of further consolidating Hábitat as the leading fair for 'made in Spain' interiors and the gateway to international markets".
More designer and contemporary furniture
This year's Hábitat will also be segmenting and arranging the offering in a different way, reflecting the industries' needs. As a result of the move, Spanish and international designer manufacturers will be located on Feria Valencia's Level 3 so as to show the best cutting edge offering all together, spread across two halls, including exclusive content such as the Salón nude, themed exhibits and a lecture and activity zone.
According to the fair's director "This is a highly attractive and individual environment in which top specifiers, interior designers, architects and retailers will be able to see our country's leading manufacturers in different sections, such as contract, along with the European manufacturers that are setting trends, many of which are once again showing considerable interest in the Spanish market".
All of the Haute Decor offering, along with furniture, lighting and Contemporary décor will be housed across the four halls on Level 2 at the Benimàmet venue. There has been particularly strong growth in Contemporary, modern and commercial furniture, market segments that are investing in the Valencia show, with the leading Spanish manufacturers of youth furniture, upholstery and bedroom furniture taking space. "This is undoubtedly an incentive for the independent retail sector and major retail groups, which will be presented with the new collections and launches for the coming season," Marco explains