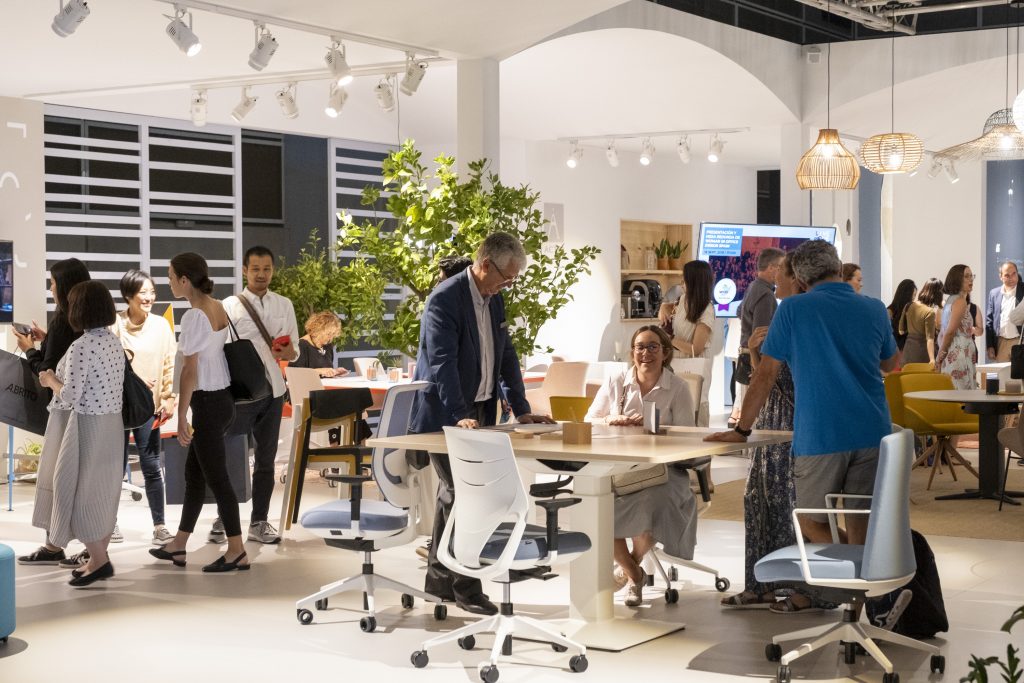 Organisers block out more than 3,000 nights hotel accommodation in downtown Valencia and the metropolitan area for guest buyers and open online registration for professionals wanting to visit.
USA to be a priority market in international campaign driven by the Generalitat Valenciana through IVACE Internacional, ICEX and ANIEME – Fedai.
Valencia, 8th July 2022.- Feria Hábitat Valencia is starting to firm up on what is poised to be one of its most successful editions yet. With exhibits forecast to occupy in excess of 70,000 square metres and space currently being allocated to the companies and brands that have committed to exhibit, the leading event for 'made in Spain' interiors has now launched one of its most ambitious buyer recruitment campaigns ever.
In response to significant demand, the organisers have as a result blocked out some 3,000 rooms in hotels in downtown Valencia and the surrounding metropolitan area to accommodate preferred guest buyers. The latter are professionals with substantial purchasing power who have been nominated by the exhibitors themselves to visit the Feria Valencia show from 20th to 23rd September this year.
As well as this direct initiative being taken by Feria Hábitat València, a significant investment – financial and promotional – is being made by public bodies such as the Generalitat Valenciana, through IVACE Internacional, and ICEX itself, with support from furniture and lighting trade association ANIEME – Fedai in the form of help in selecting priority markets for recruiting professionals to visit Hábitat from.
The USA, a key market
Which are the key markets? Standout countries on the list of key markets include the United States of America, which has burst onto the list this year as one of the key markets for 'made in Spain' interiors. The US now ranks as the third most important market for Spanish furniture, having recorded 26.4% growth in the first quarter of the year, according to the latest figures provided by ICEX that were compiled recently by ANIEME.
As well as the United States, other countries considered to be priority markets are also being targeted. These include Portugal, France, Germany, the United Kingdom, Mexico, the Unied Arab Emirates and he Baltic Countries. It should be remembered that Spanish furniture continues to deliver a healthy balance of overseas trade and that, whilst the overall effects of inflation and challenges to the supply chain have definitely been felt, the sector delivered 8.8% growth in the first quarter of the year, turning over more than 649 million euros.
Hábitat: international by nature
As Feria Hábitat Valencia's director, Daniel Marco, explains, the aim at the end of the day is "to further develop Hábitat's international nature. One the main features and hallmarks of our fair is its capacity to help our exhibitors expand internationally. At the last edition of the fair, 15% of visitors came from 70 different countries and as regards that particular aspect of the event, we will be investing even more effort this year to grow the number of international visitors who attend and, above all, to draw buyers with substantial purchasing power to this September's fair at Feria Valencia".
Marco was also keen to highlight "the very enthusiastic response from buyers" to the upcoming edition of Hábitat, remarking that they have been attracted by "the great scope of what will be on show, with more than 70,000 square metres of space taken up by Hábitat alone", added to which there will also be "the highly professional, quality offering" from the textile industry on show at Home Textiles Premium by Textilhogar plus kitchen furniture and equipment at the Espacio Cocina SICI event. "All in all, this is an enormously attractive showcase for distributors and specifiers in the field of interiors. It is also set to be further enhanced by Valencia celebrating being World Design Capital 2022 during the week Hábitat is on", he said.
Hábitat has already opened registration for interiors professionals to visit. They can download their entrance tickets, which are free of charge, via the following link: https://n9.cl/13a20
Feria Hábitat Valencia is the foremost fair for 'made in Spain' interiors and is now positioned as Spain's most representative, international and influential event for the industry, with a wide-ranging showcase of furniture, lighting, décor, upholstery and sleep products. A total of 32,796 visitors flocked to the last edition of the fair, with 15% coming from 70 different countries.