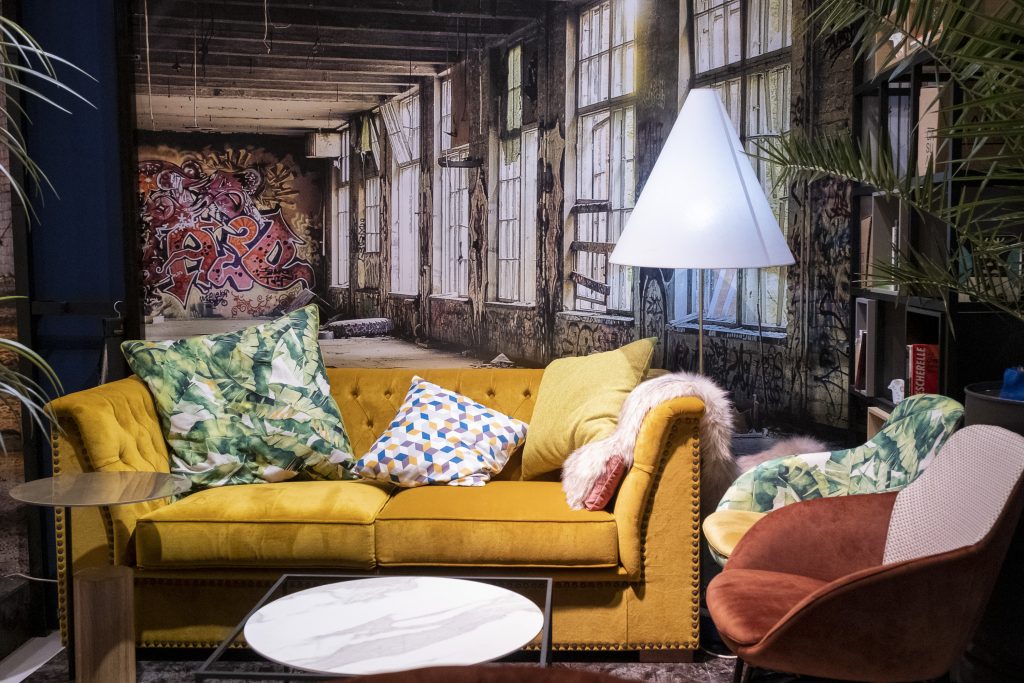 The new business platform is set to take place from 10th to 12th November and will feature companies from both the interiors and home textiles sectors in a modified exhibition format complemented by a programme of international B2B meetings.
Valencia, 23st July 2020.- Feria Valencia has devised a new event, ÁGORA ENCUENTROS HÁBITAT & HOME TEXTILES PREMIUM VLC 2020, a new trade fair that will be taking place this year to fill the gap created by the usual versions of Feria Hábitat Valencia and Home Textiles Premium by Textilhogar having been postponed until September 2021. These two fairs have driven the creation of the new event, which is scheduled to run from 10th to 12th this coming November at Feria Valencia. The format for the three-day (Tuesday-Thursday) event has been modified in line with the current, post-Covid, market situation.
ÁGORA ENCUENTROS HÁBITAT & HOME TEXTILES PREMIUM VLC 2020 is being supported by the industry's main trade associations, which have applauded the communal effort invested in creating the platform. Public bodies are also backing the initiative as they seek to reactivate the sector's manufacturing and other businesses. The initiative is also being helped along by Anieme – Mueble de España, Fedai – Lighting from Spain and Ateval – Home Textiles From Spain, as well as by ICEX and the Generalitat Valenciana through IVACE Internacional. València World Design Capital 2022 is also backing the new initiative.
Reactivating the sector
The aim, as requested by exhibitors at both events, is to fill the gap created this year by both Hábitat and Textilhogar having been postponed until next year, with a new platform that will enable the sector to present its new products in an easy, flexible, affordable format and just at the right time for companies in the interiors and home textiles sector to do business.
According to the companies themselves, sales are growing rapidly because of how consumers have changed their habits and behaviours following months of lockdown. The home has become a priority for consumers and, as a result, everything relating to the home and furnishing it is now much closer to being front of mind.
Equally, November is the ideal month for revamping the showcases ahead of the 2021 season and for interiors and textiles exhibitors to show off the new products they have been unable to present thus far because of the Paris and Milan fairs not taking place.
Options for taking part
In the light of current circumstances, the new sales platform has been designed to respond to the unique requirements of the 2020 marketplace. ÁGORA ENCUENTROS HÁBITAT & HOME TEXTILES PREMIUM VLC 2020 thus offers a flexible format for participating that is easy and affordable and means that all exhibitors need worry about is exhibiting their products. A range of turnkey stands will be available at rates that are fully inclusive of all associated costs.
The format of the fair will be very much focused on B2B between exhibitors and visitors and will also respond to the needs of professionals by offering the facility to concentrate business meetings with suppliers into a single visit, thereby avoiding travel to factories and shops.
International business meetings
ÁGORA ENCUENTROS HÁBITAT & HOME TEXTILES PREMIUM VLC 2020 will also be offering scheduled meetings with international buyers, centred on 'secure' markets such as those of the European Union and third countries that have operational connections with Spain. The organisers of the fairs are already setting up meetings for buyers from a number of markets including Germany, Austria, Belgium, Denmark, Slovakia, Slovenia, Estonia, Finland, France, Greece, Hungary, Ireland, Iceland, Italy, Latvia, Liechtenstein, Lithuania, Luxembourg, Malta, Monaco, Norway, Netherlands, Poland, Portugal, United Kingdom United Kingdom, Czech Republic, Sweden and Switzerland, as well as Algeria, Australia, Canada, South Korea, Georgia, Japan, Montenegro, New Zealand, Serbia, Thailand, Tunisia and Uruguay.
Schedule of face-to-face / virtual events
Digitalization will be another cornerstone of the new 'Ágora Encuentros Hábitat VLC' platform and will reflect the new requirements and the new environment. The programmes of meetings with international buyers will therefore also include a "digital diary" of meetings with buyers who are not able to attend the fair.
Digital will also play a significant part in the fair's programme of events. It will be posting the schedule of product launches, talks and discussions online, including those related to 'València 2022 World Design Capital', Foro Hábitat and Foro Textilhogar.
The city of Valencia, for its part, will again be an active part of the fair: it has confirmed that the full programme of exhibitions and showrooms that comprise 'València Design Week' will be staged at the same time as Ágora encuentros. 'València Design Week' is an initiative that rolls out in Valencia and is organized by the Comunitat Valenciana Association of Designers (ADCV).
Feria Valencia, a safe venue
ÁGORA ENCUENTROS HÁBITAT & HOME TEXTILES PREMIUM VLC 2020 will be taking place in a completely safe environment: Feria Valencia. In fact, the Valencia complex was the first of Spain's major exhibition venues to host trade fairs again following months of pandemic. Over the weekend of 10th to 12th July it hosted a consumer fair, the Feria del Automóvil (Automobile Fair) and a children's fashion trade fair, Día Mágico by FIMI, both to resounding success
A precedent has definitely been set, with Feria Valencia establishing itself as one of the safest venues in which to stage events such as ÁGORA ENCUENTROS HÁBITAT & HOME TEXTILES PREMIUM VLC 2020. As regards safety, the Anti-Covid19 Safety Protocol sets out a series of very strict measures including the compulsory use of face masks, hand sanitizer, double temperature checks, one-way entrances and exits and new ventilation and disinfection systems.