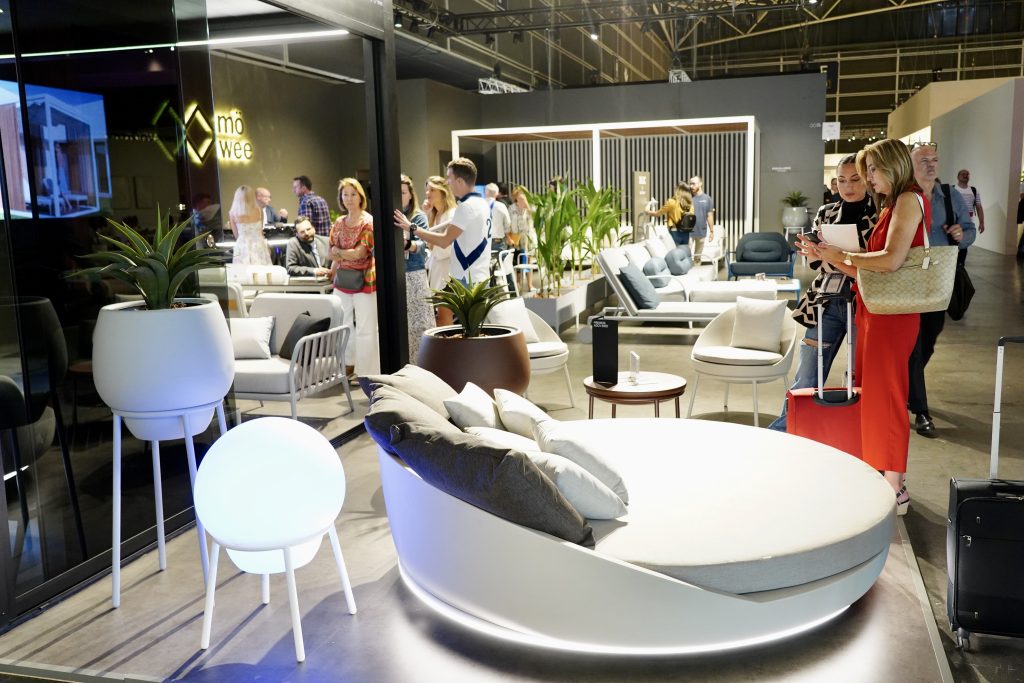 Slated to take place from 19th to 22nd September, the fair has confirmed that its highest hopes have already been met and that it is set to maintain the positive progress achieved by the last edition which together with the kitchen and textile sectors, occupied eight of Feria Valencia's halls.
Hábitat has rolled out an intensive sales drive over the last few months, visiting the manufacturing clusters in Girona, Barcelona, the Basque Country, Lucena, Mancha Real, Yecla, La Sènia, Seville and Portugal, amongst other places and signing up numerous international companies.
Valencia, 22nd March 2023.- Great outlook for Feria Hábitat 2023. The next edition of the 'made in Spain' interiors event par excellence will be taking place from 19th to 22nd September and will be at least as successful as the last edition.
What this means is that with six months still to go until opening day, Hábitat has already sold 90% of the exhibition space set aside for this upcoming edition. According to the event's sales team, this success is down to both the large number of exhibitors from last time – more than 87% – returning and to new exhibitors coming on board, some of which are taking very large stands.
It should be remembered that the last edition, in September 2022, was the biggest Hábitat of the last ten years, taking up eight of the halls at Feria Valencia alongside the home textiles and kitchen furniture and equipment fairs.
This year, textile industry event Home Textiles Premium by Textilhogar is again being staged alongside Hábitat, whilst Espacio Cocina SICI, which is biennial, will be back in 2024, allowing Hábitat to cater for any additional demand for exhibition space this year.
Intense sales drive
All of the above reflects the results of an intense sales drive undertaken by Hábitat's commercial team in recent months that involved visits to the industry's main manufacturing clusters. The team visited and met manufacturers in a number of areas including La Sènia, Girona, Barcelona, the Basque Country, Yecla, Mancha Real, Seville and Lucena, where an agreement was signed off recently to renew the group participation of local Andalusian companies in the Valencia fair.
International companies keen to exhibit.
The various sales meetings also led to a considerable number of international manufacturers signing up to exhibit – companies that are very interested in the Spanish market and are characterised by being market leaders in their respective sectors. These companies are from Italy, France, Holland and Portugal and in 2023 more will be exhibiting at Hábitat than ever before.
"The response from the industry has been exceptional", claims the fair's director, Daniel Marco. "It was very important that, on the back of the huge success of the last edition, we maintain the positive trend generated by the city's status as world design capital. And judging by the response we are getting from our exhibitors, the industry is once again confirming Feria Hábitat Valencia's position as the great business platform for the industry and the gateway to internationalization and exports", Marco notes.
Space allocation set to begin in May
Exhibitors will continue to be signed up during this month (March) and April so that stands can start to be configured and spaces can begin to be allocated in May. Hábitat 2023 will feature almost every sector and market segment related to furniture, lighting and décor, in a global overview of the latest trends in interior design, with the best Spanish and international providers specialised in design, décor, contemporary furniture, children's furniture, bedding and upholstery, amongst others, exhibiting. Feria Hábitat Valencia is the foremost international event for Spain's interiors sector, with a wide-ranging showcase of furniture, lighting, décor, upholstery and bedding. Every year, it brings more than 600 Spanish and international companies together, whilst the last edition welcomed over 48,000 trade visitors from a total of 70 countries. In 2023 it will be running alongside Home Textiles Premium by Textilhogar.