Salón nude has already sent out its call for applications to take part. All will be assessed by a jury comprised of professionals including Nacho Lavernia, Eli Gutiérrez, Antonio Serrano, Enric Pastor and Marisa Santamaría.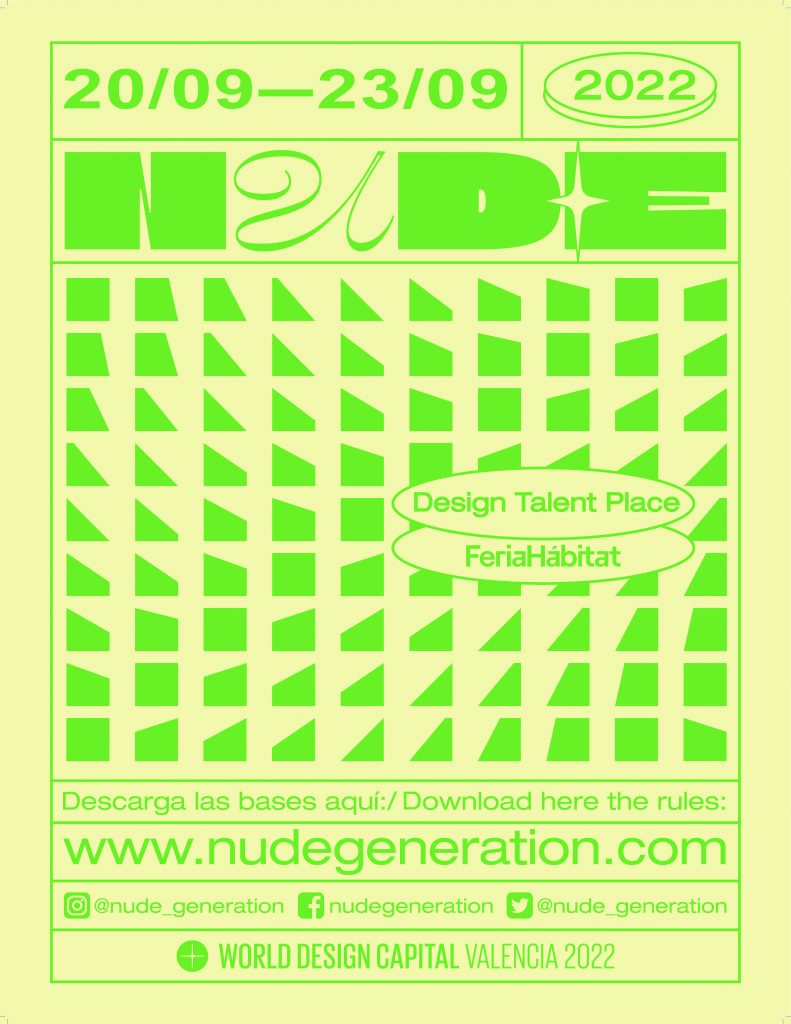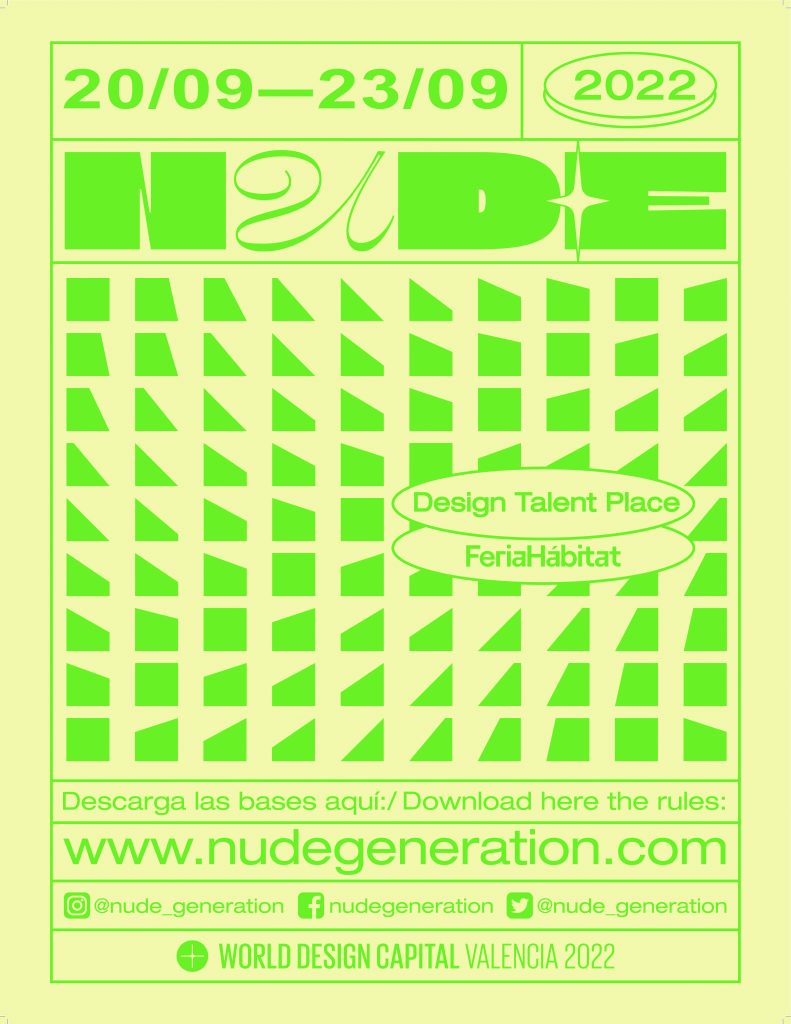 Valencia, 29thJune 2022.- Salón nude is back. The space dedicated exclusively to emerging design that brings together, at each edition of Feria Hábitat Valencia, new designers, schools of design, entrepreneurs and the media, is set to take place again, from 20th to 23rd September at Feria Valencia as part of Feria Hábitat Valencia. This will be a very special year for nude as this will be its 20th anniversary and, as well as being a feature of Hábitat, nude will also be taking part in the celebrations being planned to mark Valencia World Design Capital 2022.
Salón nude 2022
Salón nude has already launched the call for submissions of designs for the upcoming edition in September. The designs selected will subsequently be displayed at Hábitat. Participation is open to students, young designers and international creatives as well as to schools of design, new producers, manufacturers and galleries, providing they can submit designs that are compatible with the spirit of the show and comply with its terms and conditions. Designs can be for all objects, fixtures and fittings to be found in interiors: furniture, lighting, home textiles, kitchens, bathrooms and ceramic coverings.
Once all the submissions have been received, a jury of design experts will evaluate the quality and degree of innovation of the designs received. This year's jury will comprise:
Antonio Serrano Bulnes: industrial designer and creative director of Mad Lab, a producer of design objects, he has worked previously as design consultant for companies and public and private institutions and has also been a teacher for the last 25 years.
Eli Gutiérrez: cosmopolitan designer born in Valencia. Her clients include: Blacktone by JMM, Cartuja de Sevilla, Chevalier Edition, Cimenterie de la Tour, Gancedo, Geelli, Madlab, Missana, NT Forest and Signorini Rubinetterie amongst others. Since 2020 she has been a lecturer on the Masters in Product Design course at Cardenal Herrera CEU University in Valencia.
Enric Pastor, a journalist specialising in design and interior design who has worked during his career for publishing groups such as Unidad Editorial and Condé Nast. Up until 2021 he was editor of AD España, a global interior design and design title published both in print and digitally, with a presence on social media and at events. His work currently centres on strategic consultancy applied to design and corporate and specialist communication, with a special focus on the trends that affect the way we inhabit spaces.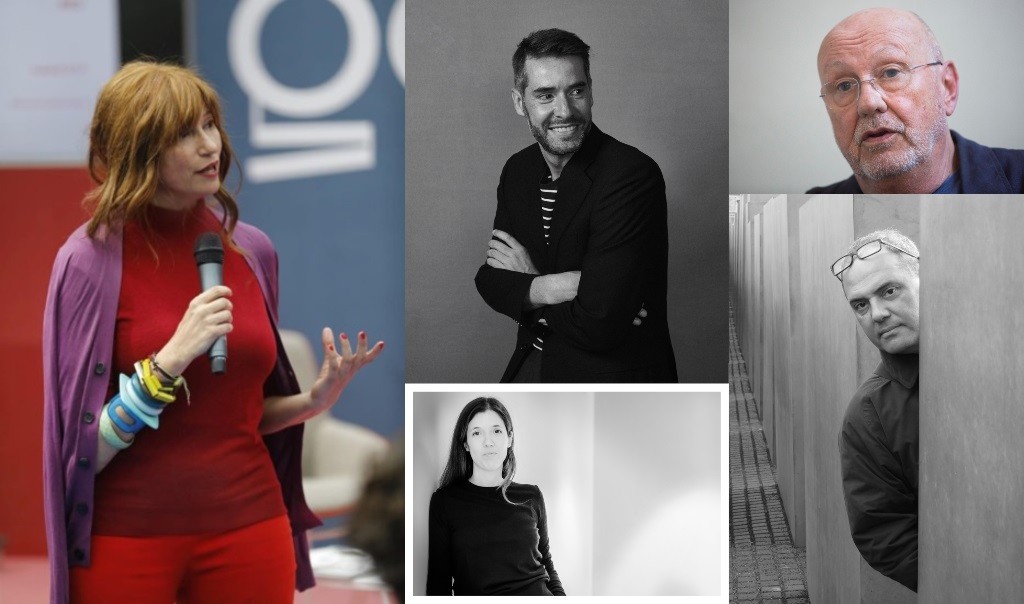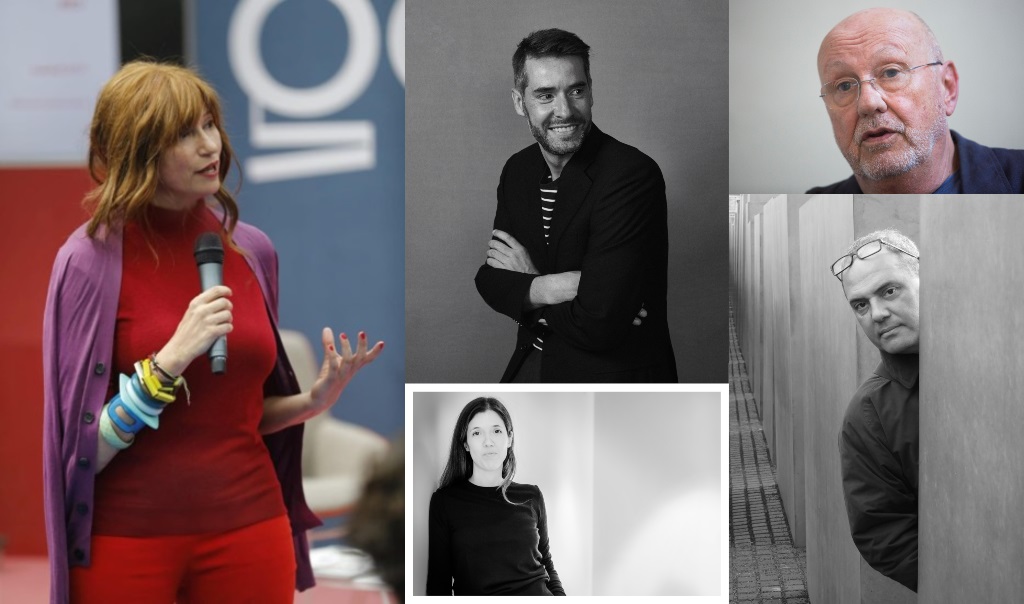 Marisa Santamaría, researcher, teacher and promoter of global trends in design. She works with brands such as: Rimadesio, Poltrona Frau, Simon Electric, Cosentino, Camper, Andreu World, Porcelanosa, BTicino and Siematic, amongst others. Strategic director at Red de Diseño del Foro de Marcas Renombradas Españolas (Leading Brands of Spain), she teaches architecture and design at IE University, IADE and Milán POLI Polytechnic and design at Nebrija University.
Nacho Lavernia (Lavernia&Cienfuegos·Design): has been a member of several professional design teams: Caps i Mans (1979-1984), La Nave (1984-1989) and Gimeno y Lavernia (1989-1994). He founded LAVERNIA&CIENFUEGOS Y ASOCIADOS in 1995 in association with Alberto Cienfuegos. The practice works with international businesses such as Unilever, Delhaize, Zara, Puig, Philip Morris, Nivea, Oriflame, Natura, RNB, Nong Fu, Kose, Henkel, Kao Corporation and RNB. He has taught design at the CEU S. Pablo and at the Polytechnic University of Valencia and won the Premio Nacional de Diseño (National Award for Design) in 2012.
Promoting 'made in Spain' design since 2002
Salón nude was created in 2002, within the framework of what was then the Valencia International Furniture Fair (FIM), as an ongoing project that would fulfil four objectives:
To be a platform for design
To be a tool at the service of the interiors industry
To create forums where new designers and the industry could meet
To promote the values of the culture of design for interiors
Much lauded designers who launched their careers from stands at nude include Héctor Serrano, Alberto Martínez, Miguel Herranz, José Manuel Ferrero, Odosdesign, Culdesac, Stone Design, Javier Herrero, Luis Eslava, Isaac Piñeiro, EnBlanc, La Mamba – Omelette and Dutch designer Marre Moerel.