From 20 to 23 September, POINT –winner of the 2019 National Design Award– invites you to discover the latest in top Spanish design on its own turf. At the 56th edition of Feria Hábitat València, the 100-year-old outdoor furniture brand is presenting its new collections and a selection of the pieces that are earning international awards and acclaim. This year's event will be even more special because Valencia is the World Design Capital and will be an international showcase for our country's best design.
Exhibitions, congresses, presentations… Feria Hábitat València is a highly important and influential furniture show. Within this setting, POINT is back, exhibiting collections that will lead the way in outdoor furniture. For some of them, it will be their first presentation in Spain. The brand's secret remains the same as when it started out 102 years ago: craftsmanship with a high design component.
"The essence of POINT is linked to the essence of the Mediterranean, to quality of life and the art of living", explains Juan Pons, director of POINT and member of the fourth generation of the founding family. He goes on to say, "we work with very different designers but, in the end, our catalogue has a Mediterranean feel, conveying a characteristic lifestyle, and that has been –and continues to be– the key to our success. Now we're on home soil, and it's a source of pride and an opportunity for us to be able to show the world the talent of our people and the know-how we have in this place".
An impressive Mediterranean terracotta lattice will form the backdrop for POINT's pieces. Its sinuous curves play at concealing and revealing. Intriguing and discovering. In this stand covering more than one hundred square metres we will find the brand's latest proposal, Heritage, a collection designed by another national design award winner, Mario Ruiz, which is based on the hand-weaving that has identified POINT from the outset. It will also be a chance to see, touch and try the pieces from City, a collection by Christophe Pillet that began this year by receiving LE FRENCH DESIGN award. The brand's best sellers and some of its classics will also be present at Feria Hábitat València.
In 2019, this company from Alicante was awarded the National Design Award, but POINT's history began more than 100 years ago with a master craftsman who became an example to follow in traditional craftsmanship. Four generations later, this family business has turned its legacy into an international brand that is synonymous with the best design, research and savoir faire. With nearly 300 products by major national and international designers, POINT's pieces can now be found in projects all over the world, from Australia to Mexico, Dubai, London, Paris and Miami. Major international hotel chains such as Four Seasons, W, Shangri-La, The Langham and Hyatt Regency have featured POINT's furniture in their properties.

The collections that will be on display at this edition of Feria Hábitat València are:
_Heritage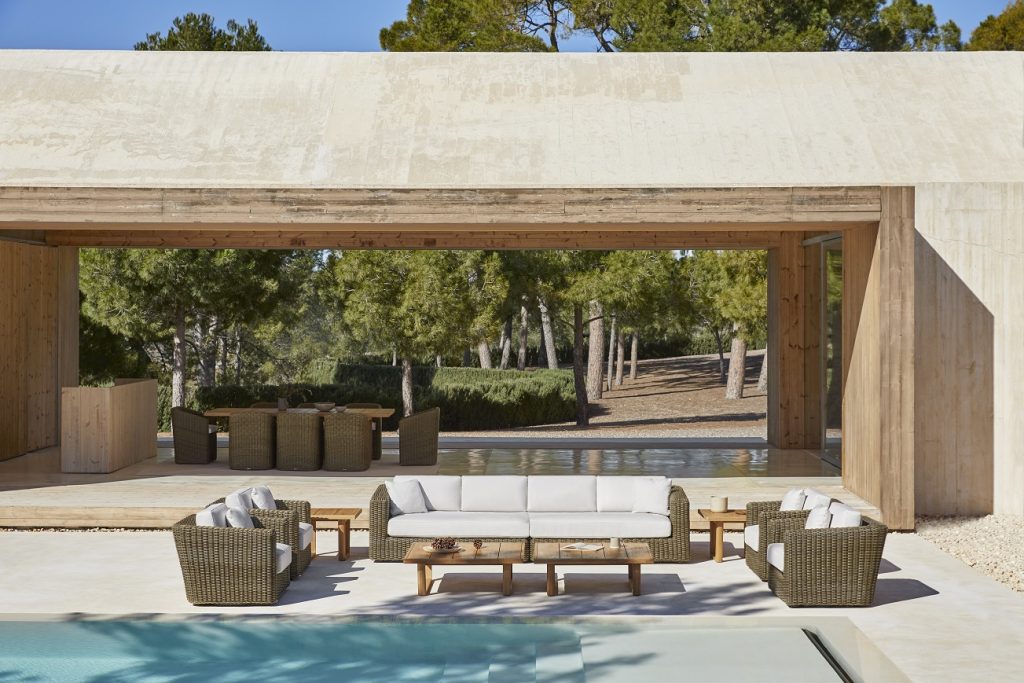 This collection brings together two national design award winners: Mario Ruiz (2016) and POINT (2019). Respect for tradition, innovation, know-how and a desire to find beauty in simplicity are its defining features. Ruiz takes POINT's famous hand weaving as his reference in developing these pieces. He also adapts traditional materials and formats to softer, more modern and fluid languages. This collection can be easily adapted to a contemporary look or a more traditional setting. All the pieces are made from an aluminium frame with a woven synthetic fibre outer body. The collection is composed of sofas, armchairs, chairs, side tables, dining tables, sun loungers and daybeds.
_City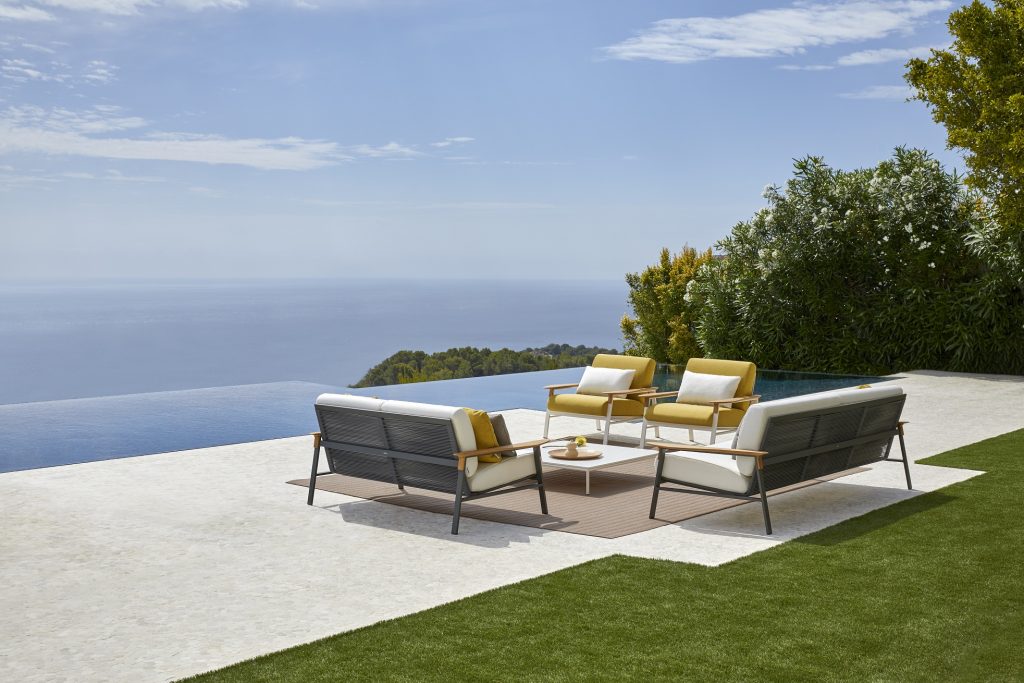 The launch of this new collection in our country comes with an international award. Designer Christophe Pillet recently received an award for this collection for POINT at Le FRENCH DESIGN Awards. "This collection is my contemporary take on the art of Mediterranean living, which is unconnected to time. It is a universe where the sun and the earth meet", explained the French designer about City. A powder painted aluminium structure is the starting point for each of the pieces in this collection. It also features arms made from teak wood –sourced from sustainably managed forests–, a back finished in aluminium and rope, and plump, comfortable cushions. City is composed of tables, an armchair and two- and three-seater sofas. They all exude classicism and elegance, and their cushions can be customised in terms of both prints and colours.
_Long Island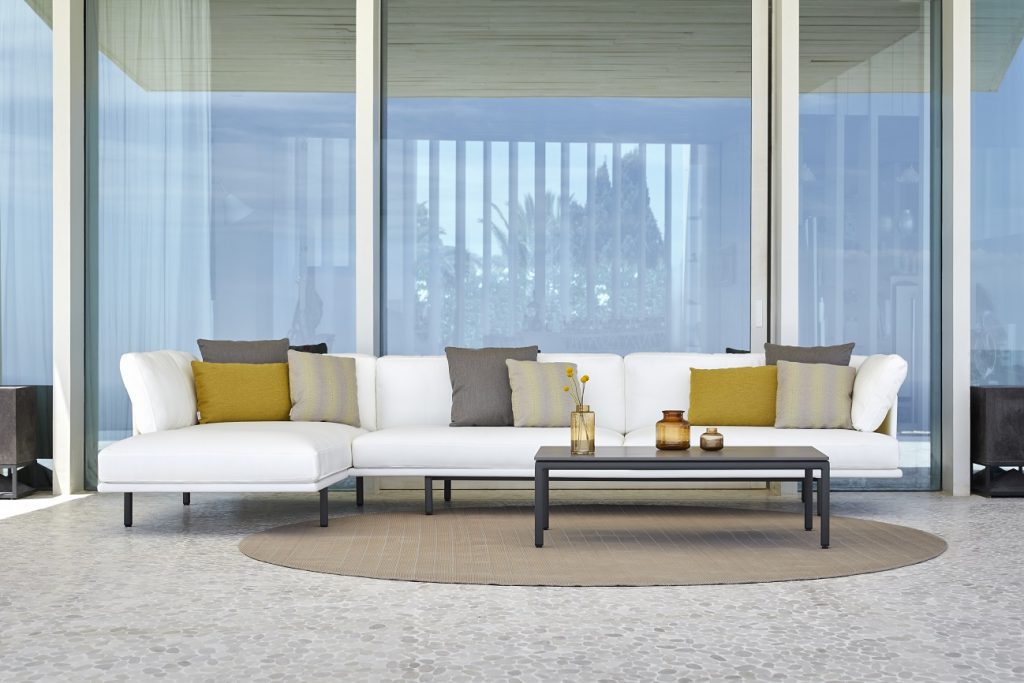 "My goal with Long Island was to make it as desirable and as well finished as a piece of indoor furniture, with a similarly detailed design", designer Christophe Pillet explains, adding "I sought to create the feeling that these pieces have always existed". Straight shapes and slim lines define the silhouette of this modular collection of outdoor sofas. Eminently versatile, the pieces that make up the collection include an armchair, a sofa and a chaise longue, which adapt to fit each space. According to Pillet, its simple design aspires "to offer universal elegance and great comfort". This collection seeks to become a modern classic and consists of thirteen pieces that are complemented by three tables with an aluminium structure.
_Summer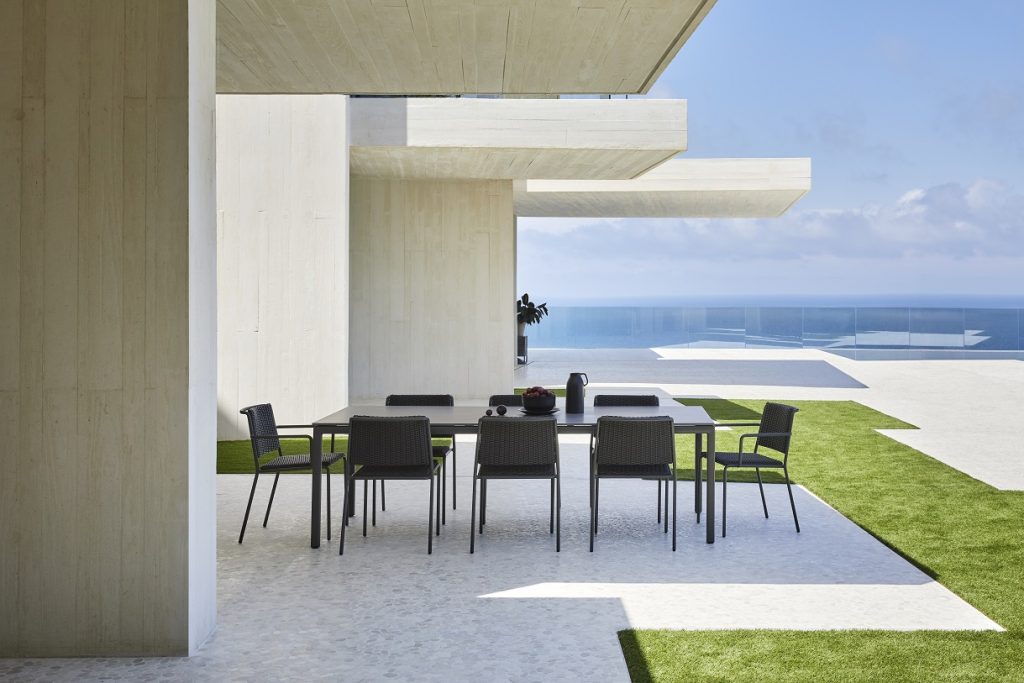 The Summer collection –consisting of a dining room chair and armchair and three types of table– is based on a new take on the traditional chair: universal, simple, functional and timeless, but now given a touch of refinement, technical precision and sensuality. "The decorative effect is produced here by the texture of the weave, which is intended as a homage to craftsmanship. It therefore has something very elaborate (handmade), with a very strong, very simple design", explains its designer, Christophe Pillet. The chair is made from aluminium combined with rope and is available in different colours. The tables have an aluminium structure and porcelain or compact top. "This is an almost indefinite, classic, universal collection, which we defined very slightly to give it a new touch of modernity".
_Weave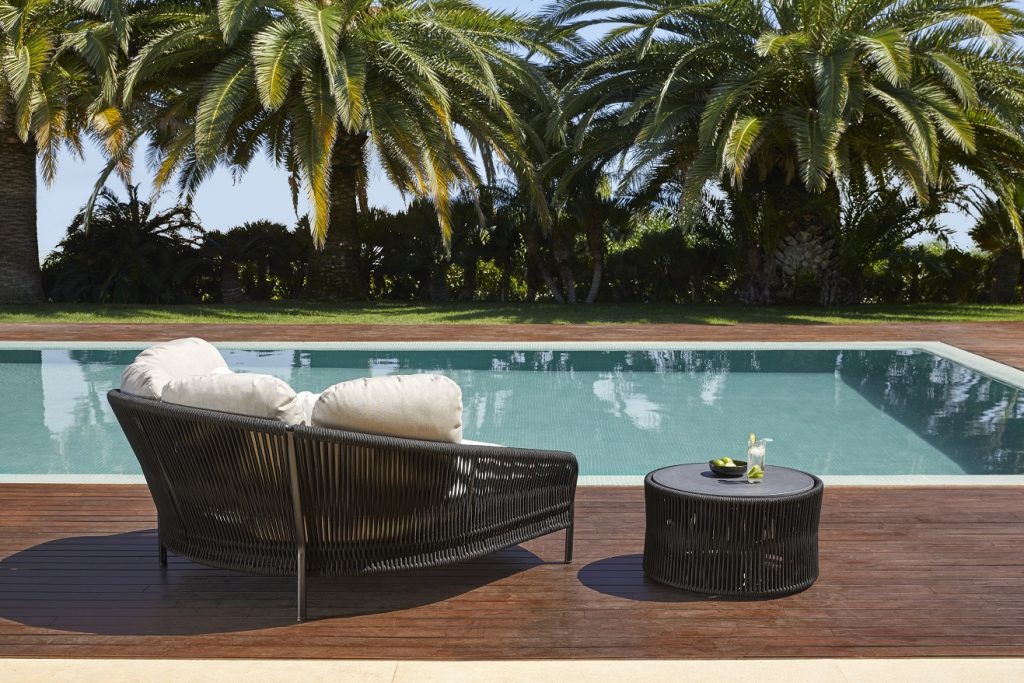 Since it was launched in 2017, this collection with its soft, relaxed lines has reaped many international awards, such as the International Interior Design Association's 2018 Global Excellence Awards, Gold Medal in the Ibero-American Biennial CIDI for Interior, Design and Landscape and the ADCV GOLD Award for Outdoor Furniture in 2017. Inspired by the way baya weaver birds weave their nests, Vicent Martínez designed this collection to be as functional as it is emotional. Meticulously finished, each piece is created by hand, woven strand by strand. It consists of a total of twenty-seven elements, including swings, tables, sun loungers, sofas and chairs, all with a structure that envelops, protects and relaxes. The latest additions to the collection are a dining armchair and a versatile rope table base –round or square– that can also be used as a planter or a pouffe. All the pieces have a powder painted aluminium structure and the characteristic rope weave. There are a great variety of possible combinations thanks to their finishes in taupe, cream and black.
_Paralel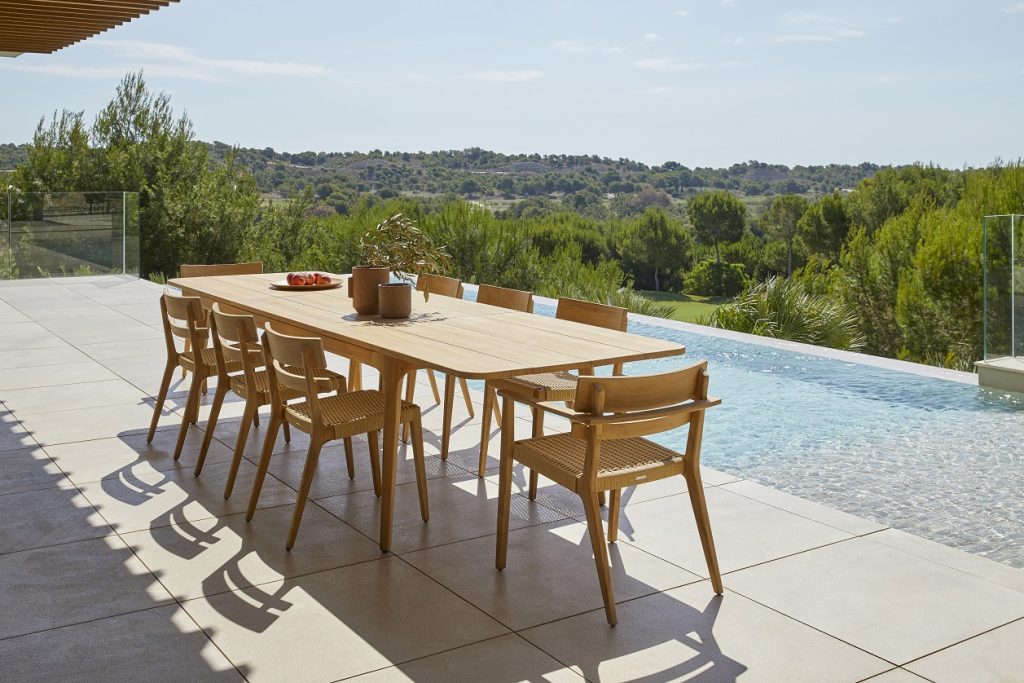 Designed by Gabriel Teixidó, it is set to become a classic. As its creator himself explains, "its characteristic element, wood, is a living element that connects well with people and gives it warmth". Robust yet soft, its chairs, armchairs, sofas and tables combine Indonesian teak wood (from carefully managed forests) and synthetic rope. There are a total of fourteen pieces, also including a sun lounger, a side table and an extendible table. They are designed for gardens, terraces or porches, integrating easily into indoor spaces too. "It's a human collection that fits perfectly into natural surroundings", says Teixidó.
_Lis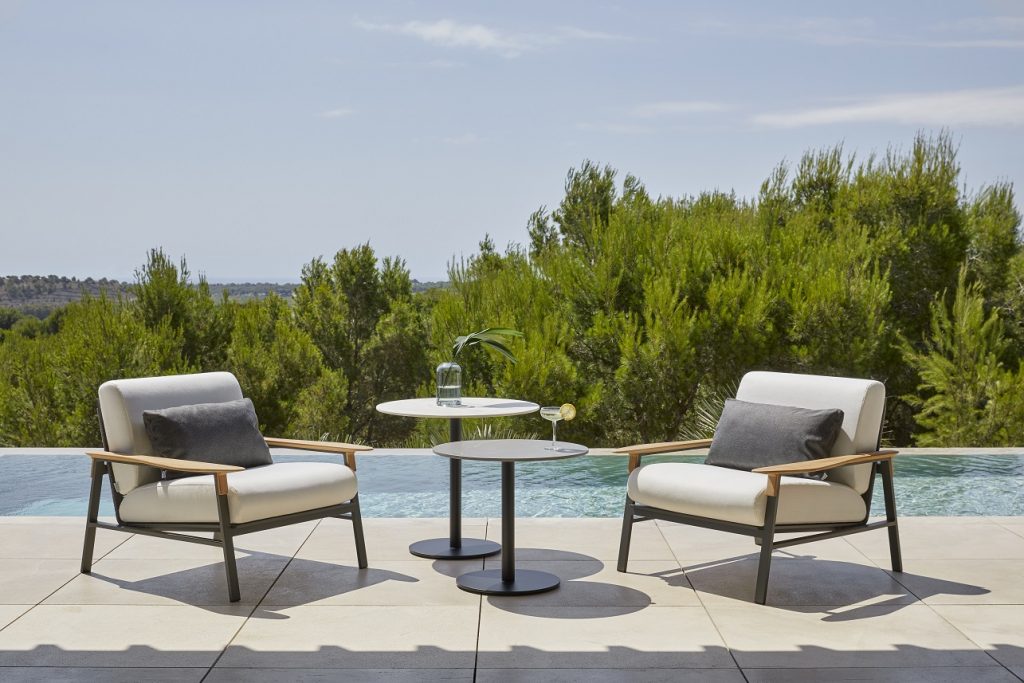 The key to these two table bases, developed by POINT Studio, is that they are based on an apparently simple design that embodies POINT's philosophy. They are versatile pieces whose simple shapes integrate perfectly into any environment, helping to achieve a stylish, contemporary setting. Technically, we have worked on developing the bases so that they have an exact diameter that gives the table great stability.