Zava presents at Feria Hábitat 2023 a Valencia with a wealth of ideas and lighting projects that reflect its dual soul: that of a company of craftsmanship excellence and that of of an international design brand . On the one hand, the most sophisticated production technologies, on the other, a careful manual finishing and assembly work. A unique and extremely careful process in every detail which, together with the extremely high quality of the materials used, makes each Zava lamp a design "master piece», 100% made in Italy.
Zava lighting systems represent a perfect fusion between design and functionality, between beauty and lighting performance. Among the latest international trends and the highest Italian creativity. An increasingly central concept in creating effective and design-conscious lighting projects, both for the home and for the contract sector.
Zava's style is based on a refined aesthetic research, but based rather on clean, minimal lines. A sober and introverted beauty, which is based on the balance of shapes and which eliminates any decorative frills. A style that draws inspiration from the poetry of Japanese design and the clean lines of Scandinavian design, but interpreted by the creativity of a proudly Italian company.
A beauty that leaves no space for other interventions, since, as Antoine Saint Exupery expressed with admirable synthesis «Perfection is achieved not when there is nothing more to add, but when there is nothing more to take away«.
This vision, guided by the choices of Art Director Massimo Rosati, has inspired the new lighting projects 2023. These are intense projects that combine the distinctive trait of the selected designers with the company's vision and interpreted through the creative use of metal, the material that has always characterized Zava's manufacturing excellence.
The designers who collaborated with Zava are:
Bellucci Mazzone Progetti (Guido Bellucci, Francesco Mazzone)
Cédric Davies
Debonademeo (Luca De Bona, Dario De Meo)
Meneghello e Paolelli (Sandro Meneghello, Marco Paolelli)
Testatonda (Nicolò Corigliano, Matteo Minello, Valter Cagna)
BELLUCCI MAZZONE Progetti
ATRAX
Suspension, floor lamp
Design Bellucci Mazzone Progetti
Atrax was born as a decorative suspension lamp and further developed as a wall and floor lamp. Elegant and dynamic, it finds its rightful place in the contract world (restaurants, hotels, halls, etc.) but also, in smaller dimensions, for the home.
The peculiarity of the suspension is given by the numerous metal profiles of various lengths and curvatures that support the spherical lighting bodies, creating as a whole extraordinary plays of light and a strong scenic presence that enriches the environment. More minimal but equally dynamic is the floor lamp and wall lamp version with a metal profile and a sphere as lampshade.
PETIT (Main pic)
Suspension
Design Bellucci Mazzone Progetti
Petit was born, as the name suggests, from the need to create a lamp that can remain suspended on a cable, giving a feeling of balance and lightness and a graphic design made up of intersecting lines. The lines are in fact the main subject both the light source represented by a long aluminium tubular element with led strip and for the cable that supports it.
The light source that extends through the entire length of the body allows to illuminate long desks or big dining table, offering a perfect light.
SALVIA
Suspension, floor and wall lamp
Design Bellucci Mazzone Progetti
Salvia is a garden lamp for lighting paths and planters. The idea is to have a light and sober lamp that recalls the simple lines of a branch and a leaf that blends and blends with the landscape during the day.
CÉDRIC DAVIES
ORIZZONTE
Suspension
Design Cédric Davies
Orizzonte is a lighting system that takes me back to my childhood. Back then, I was lucky enough to play with a model railway. Here, I could roam endlessly in all directions. And sometimes even to the horizon. Many years later, I had the opportunity to design a lamp that allows you to reach the horizon in an elegant and playful way, which makes me very happy.
DEBONADEMEO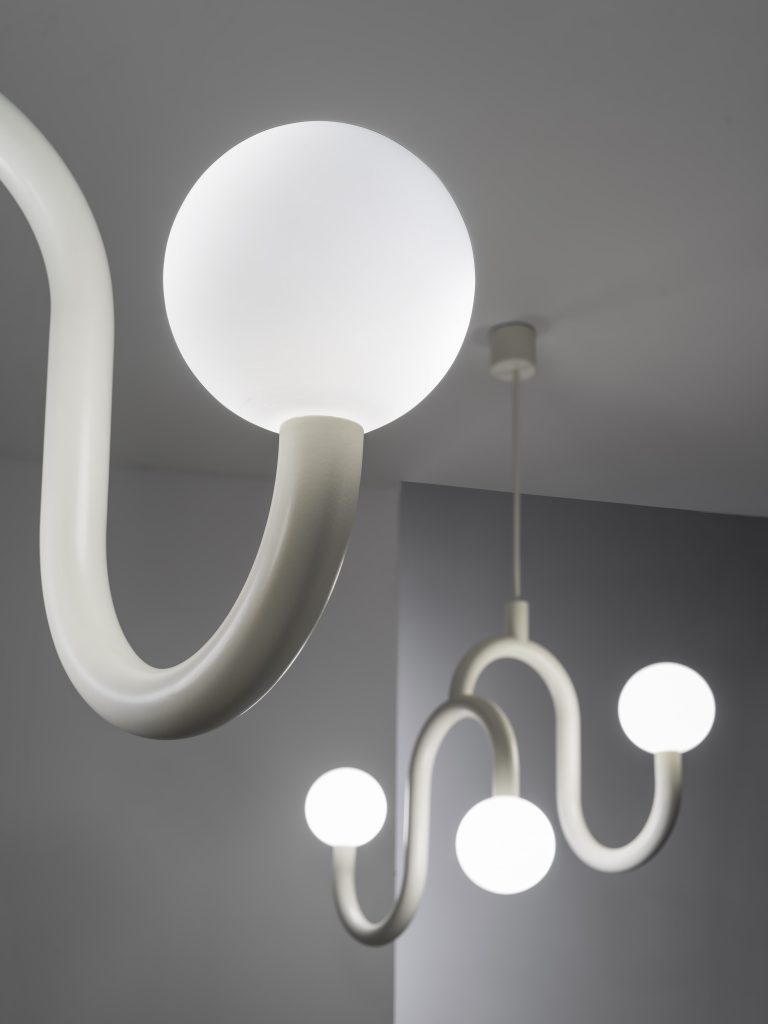 LINFA
Suspension, floor and wall lamp
Design Debonademeo
A family of lamps inspired by the concept of «giving birth», a universal expression that combines the concept of birth with that of a light source. Each model in the Linfa collection is characterized by bundles of curved tubes which, like lymphatic capillaries, are articulated in the inhabited space, drawing metallic arabesques in the air. The ends of each tube expand into opal glass spheres that light up to illuminate the rooms. Suspension lamps, appliques and floor lamps take the traditional chandelier as a model to redefine it in a contemporary, at the same time minimalist and romantic key.
MENEGHELLO PAOLELLI
SAN BABILA
Wall Lamp
Design Meneghello e Paolelli
San Babila is one of the symbolic squares of Milan, halfway between the Duomo and Porta Venezia, the beating heart of the advancing city but a symbol of the history of Milan, of its typical architectural soul of the 1920s.
From this assumption the San Babila collection was born, a collection that is defined by the use of noble raw materials and by a minimal but evocative aesthetic that refers to that period of transition between fine art deco and Milanese monumental architecture. The designers have tried to find a balance between the light source, defined by opal spheres of various diameters supported by an iconic perforated cone that acts as a connection for the brass tubes that define the space between the light source and the wall. Straight lines, arches and semi-arches define the space and luminous architecture of San Babila.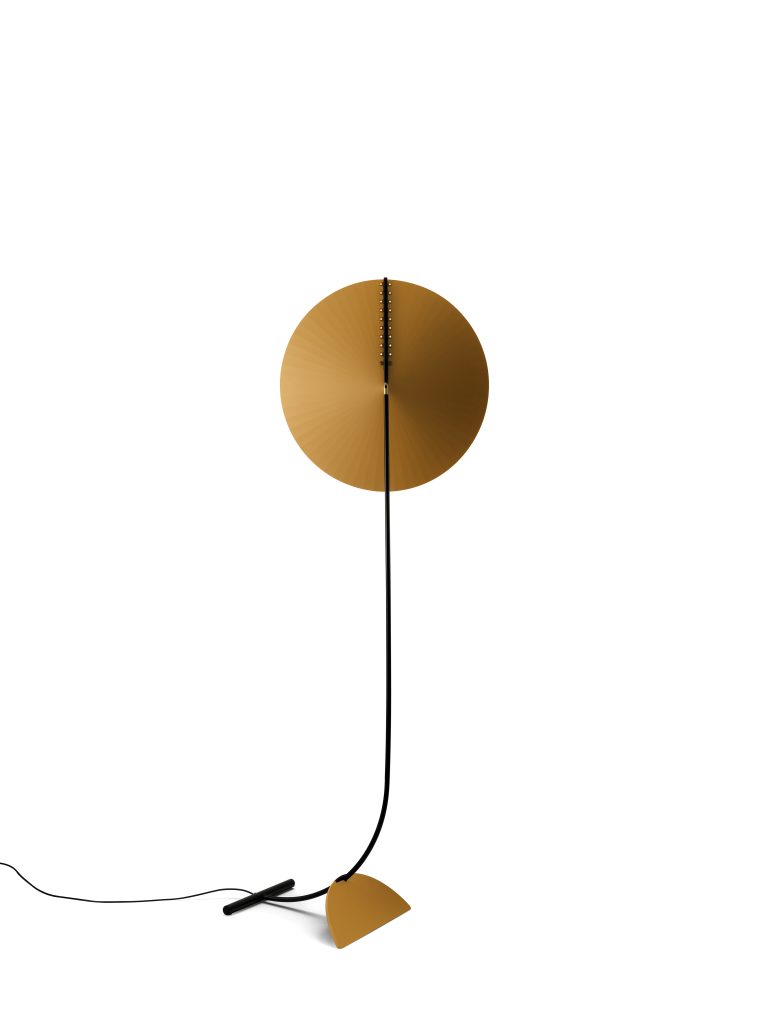 RONIN
Suspension, floor and wall lamp
Design Testatonda
Now deprived of a dō, the products are diligently arranged in space according to rigid spatial schemes. Tired servants of their master, the army of «wavemen» now wander in search of new ways. Japanese photograph of bushidō, unattainable code of ethics that indicates «The Way of the warrior». Ronin are products that have chosen not to have a master but to be protagonists of their own destiny.
Thus was born the Ronin collection for Zava which consists of a floor lamp, a suspension and a wall lamp. The pleated motif of the hat is the stylistic hallmark of the collection. Presented in three different sizes, the lamps are made of painted iron.
ZAVA was founded in 1982: since then the company has been working metal thanks to its craftsmanship combined with continuous technological innovation. Each piece is an expression of irreplaceable craftsmanship, combined with creativity and attention to design. These are the characteristics that have always distinguished a Made in Italy product based on passion and the enhancement of human capabilities. ZAVA offers a collection of lamps with an undoubted personality. Its uniqueness lies in the encounter between the strength, materiality and expressive power of iron and the impalpable lightness of light. Collaboration with various designers has given rise to lamps of great decorative and technical depth, which have become real best sellers.