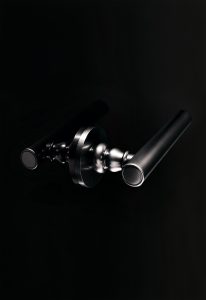 [tp lang="es" only="y"]
La firma italiana Olivari es, en la actualidad, probablemente la marca de manillas, de mayor prestigio internacional en este momento, por los siguientes motivos:
Diseño: Con más de 100 años de historia, sus diseños están firmados por diseñadores y arquitectos como: Toyo Ito, Jean Nouvel, Daniel Libeskind, Patricia Urquiola, Massimo Iosa Ghini, F.A. Porche, Andrea Branzi, Gio Ponti, Richard Sapper, Piero Lissoni, G. Giugiaro, Alessandro Mendini…..
Calidad:  Fabricación 100% en Italia, en sus propias instalaciones, con la tecnología y controles de calidad más avanzados del sector. Hasta 30 años de garantía. Acabado Antracite único en el sector. Única empresa de manillas con sistema de trazabilidad.
 Servicio:  Excelente servicio de gestión, post-venta y entregas en cortos plazos.
Novedades en Feria Hábitat Valencia 2015
Las últimas novedades son las manillas Dolce Vita de Marcel Wanders y Twist de Ben van Berkel. Otros modelos interesantes son Lucy y Conca, de Patricia Urquiola; Total y Radial, de Rodolfo Dordoni; Lotus , de Javier López; Euclide, de Nicola Noveletto; Link, de Piero Lisoni  y Nina, de Daniel Libeskind
Por otra parte, de la investigación de Olivari nace un nuevo acabado: el Superantracite satinato.  Un gris muy oscuro, de una belleza extraordinaria, con reflejos metálicos, una dureza superficial superior y prestaciones tipicas del acabado Superfinish,  garantizado por 10 años, gracias a la aplicación y desarrollo de procesos propios del mundo de la aeronáutica.
Un acabado con las mejoras cualitativas respecto a los ya altos estandares de la empresa, que da una nueva vida a las manillas en un juego de contrastes de geometría y elegancia.
Además, también destaca el acabado SuperFinish. Es un acabado de una extraordinaria resistencia, de hasta 30 años de garantía. Es obtenido mediante la deposición de estratos metálicos de excepcionales características, sobre una base de aleación de latón. Es adecuado para espacios de uso intensivo, resistente a los ambientes corrosivos y a los agentes externos, ambientes marinos, uso externo, lluvia, temperaturas extremas. Se han obtenido las certificaciones UNI e ISO a la resistencia a los rayos ultravioleta, y ISO, ASTMBI y DIN a la resistencia a niebla salina por más de 3000 horas. Su extraordinaria dureza ha estado testada por el Centro Nacional de Investigación de Padova. Los test de laboratorio han demostrado la resistencia al contacto prolongado con: disolventes, siliconas, cemento, alcohol, amoniaco, productos antical, etc. Cabe destacar en estos acabados el IS, acabado inoxidable, un acabado de extraordinaria belleza, atemporal y de un tacto mucho más agradable y confortable, que el inox tradicional.
Una marca 100% italiana

"In casa mia ho le maniglie Olivari("En mi casa las manillas son Olivari"). En Italia, esta es una frase que se escucha habitualmente y representa el orgullo de poseer un producto de calidad y prestigio. En más de 100 años, tantas manillas han sido producidas por Olivari. De hecho, muchas de ellas, siguen en plena "actividad", gracias a su excelencia productiva y su actualidad estética. Algunas de estas manillas, con el tiempo se han convertido en "clásicos" y son reconocidas y apreciadas como iconos del "Made in Italy". Un ejemplo: en 1954, "Gio Ponti" diseñó la manilla "Lama" para el rascacielos "Pirelli" de Milán. Esta manilla se sigue produciendo en la actualidad y su diseño es tan actual como el de las novedades más recientes.
 La historia de Olivari se ha construido con numerosos capítulos como este, que nos siguen sorprendiendo año tras año, con nuevas tecnologías, nuevos acabados y nuevos diseños… descúbrelos en:
De la Arquitectura al Diseño. 100 años de Manillas. Macchina Semplice. Libro histórico sobre la arquitectura de los últimos 100 años, vinculada al diseño en general y a las manillas en particular.
Olivari, ha recibido la mención de honor, por sus procesos de investigación e innovación, en el concurso COMPASSO D'ORO 2014 – ADI, el más prestigioso reconocimiento del diseño italiano.
[/tp] [tp not_in="es"]
"In my house the handles are OLIVARI". In Italy this  is a regular phrase and represents the pride of owning a product of quality and prestige. In more than 100 years, many handles have been produced by Olivari. In fact, many of them still in full "activity", thanks to its manufacturing excellence and your current view. Some of these handles, over time have become "classics" and are recognized and appreciated as icons of "Made in Italy". One example: in 1954, "Gio Ponti" designed handle "Lama" for the skyscraper "Pirelli" in Milan. This handle is still produced in the currently and its design is as current as the most recent developments.
OLIVARI, has received honorable mention for their research and innovation processes in, COMPASSO D'ORO 2014 – ADI, the most prestigious recognition Italian design. OLIVARI is today probably, the brand of handly of more international prestige at this time, for the following reasons:
DESIGN:
With over 100 years of history, their designs are signed by designers and architects such as Toyo Ito, Jean Nouvel, Daniel Libeskind, Patricia Urquiola, Massimo Iosa Ghini, F.A. Porche, Andrea Branzi, Gio Ponti, Richard Sapper, Piero Lissoni, G. Giugiaro, Alessandro Mendini…..
QUALITY:
Manufacture 100% in Italy, in their own facilities, technology and quality controls most advanced in the sector. Up to 30 years warranty.
Finishing ANTRACITE only one in the sector. The only company handles with system traceability.
SERVICE:
Excellent management service, after sales and deliveries in the short term.
The latest developments are: DOLCE VITA by Marcel Wanders and Ben van TWIST Berkel.
Other interesting models: LUCY and Conca, Patricia Urquiola / TOTAL and RADIAL, Rodolfo Dordoni / LOTUS, Javier Lopez / EUCLIDE, Nicola Noveletto / LINK, Piero Lisoni / NINA, Daniel Libeskind
SUPERANTRACITE SATINATO
OLIVARI of investigation a new finish.
OLIVARI introduced in its range, a new finish, accepting requests from architects and interior designers, who are increasingly looking for products with a strong character, able to adapt to their environments.
SUPERANTRACITE SATINATO:
The first and unique finish of this type applied to the handles.
A very dark gray, extraordinarily beautiful, with metallic reflections, a surface hardness greater and Typical features of SUPERFINISH finish, guaranteed for 10 years thanks to the implementation and development processes of the world of aeronautics.
An improved finish respect to those already high standards of the company, giving new life to the handles in a game of contrasts geometry and elegance.
OLIVARI has received an honorable mention ADI 2014, precisely because of his ceaseless work in the processes of research and innovation.
Finishing SuperFinish: An extraordinarily strong finish of up to 30 years warranty. Is obtained by depositing Is obtained by depositing metal layers exceptional features, on a brass alloy. It is suitable for areas of heavy use, resistant to corrosive environments and external agents, marine environments outdoor use, rain, extreme temperatures. We have obtained the certifications UNI and ISO resistance to ultraviolet rays,  and ISO, ASTMBI and DIN  resistance to salt spray for over 3000 hours. Its extraordinary hardness has been tested by the National Research Center of Padova. Laboratory tests have shown resistance to prolonged contact: solvents, silicones, cement, alcohol, ammonia, descaling products, etc. Highlighting in these finishes, the IS, Stainless finish, a finish of extraordinary beauty and a sense much nicer and comfortable than traditional steel.
Catalog available at:
[/tp]