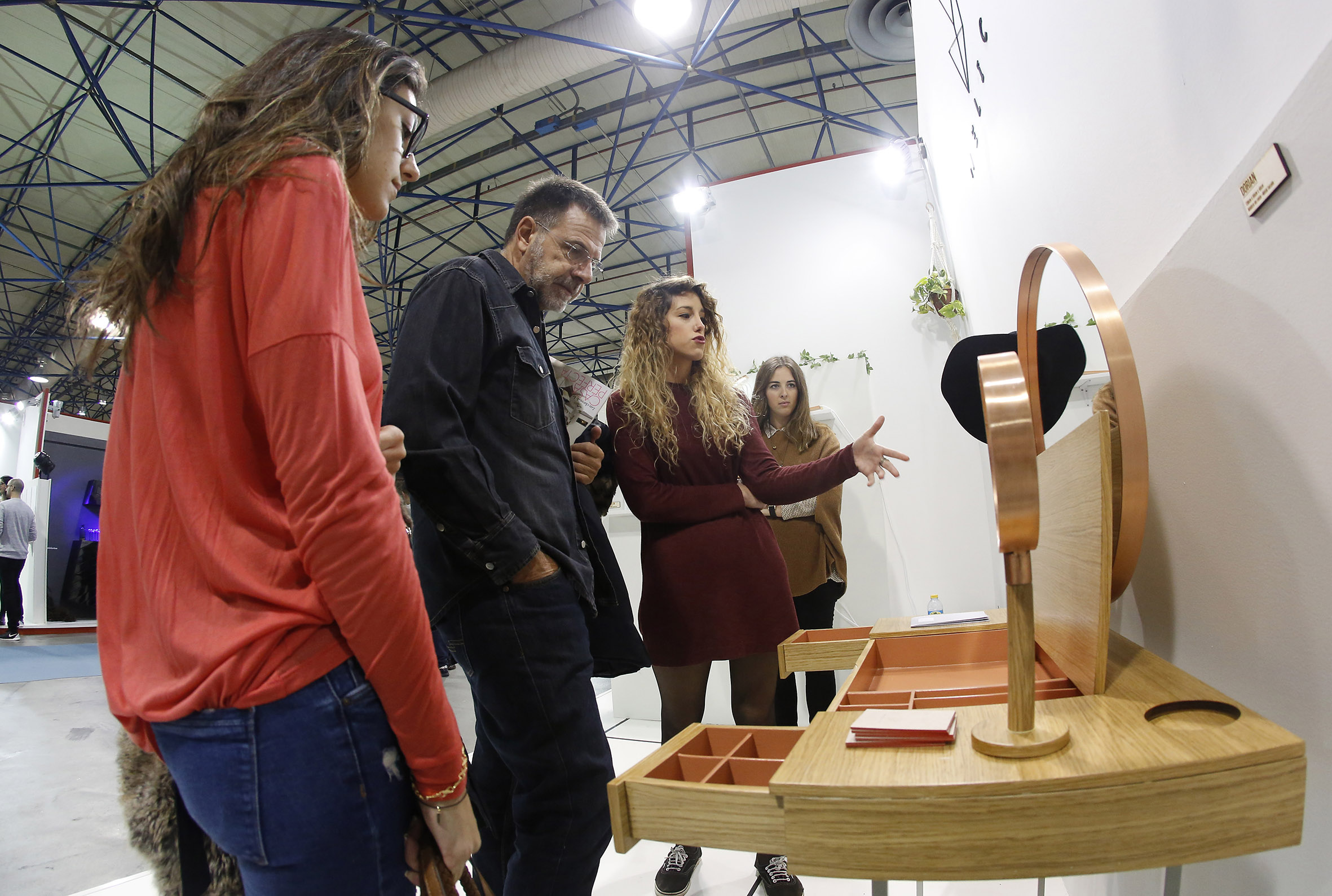 [tp lang="es" only="y"]
La muestra llega a su decimocuarta edición y consolida su apuesta por integrar en su escaparate todos los sectores que se proponen en Hábitat, Cevisama y Fimma – Maderalia.
Valencia, 29 de junio de 2015.- Feria Hábitat Valencia ha convocado la decimocuarta edición del Salón nude, la plataforma más relevante del nuevo diseño del hábitat que anualmente se celebra en España y que en 2016 discurrirá del 1 al 5 de febrero, de nuevo en el marco de la iniciativa 'Nos Vemos en Valencia', que aglutinará la celebración conjunta en Feria Valencia de los certámenes Hábitat, Cevisama y Fimma – Maderalia ya por tercer año consecutivo.
La consolidación, precisamente, de la apuesta que conforma 'Nos Vemos en Valencia' en torno a un escaparate integral para la arquitectura, interiorismo y diseño tiene una buena muestra en un evento como el Salón nude. Esta cita, que reúne cada año a jóvenes diseñadores internacionales y escuelas de diseño en torno a nuevas propuestas para el hábitat, se ha ido abriendo progresivamente a todos los sectores que conforman el escaparate de las ferias que lo rodean.
En este sentido, en su próxima edición, el Salón nude ya estará integrado por todas las familias de productos que el profesional, de hecho, va a poder ver en la oferta de Cevisama, Hábitat y Fimma – Maderalia. Es decir, objetos y equipamiento de mobiliario, iluminación, textiles para el hogar, cocinas, baños, revestimientos cerámicos, herrajes y cerrajería, carpintería de construcción, puertas, ventanas, armarios, escaleras y vigas. Una visión global que tendrá también su traslación a sus propuestas más transgresoras.
Vivero de innovación y creatividad
La cita, que contará con un espacio propio y diferenciado dentro de Feria Hábitat Valencia, se configura como un auténtico vivero de innovación y creatividad y por él han pasado a lo largo de sus trece ediciones gran parte de los diseñadores y estudios creativos que actualmente ocupan un primer plano en el ámbito del diseño nacional e internacional.
El Salón se ha consolidado como un marco expositivo de encuentro entre los jóvenes diseñadores internacionales y el sector profesional del hábitat, una puerta de entrada a los nuevos creadores que encuentran la oportunidad de contactar con fabricantes y distribuidores en busca de nuevas oportunidades en el mercado.
En la convocatoria de la edición del 2016 del Salón nude podrán participar estudiantes, jóvenes diseñadores y creadores internacionales y escuelas de diseño, según rezan las bases ya publicadas. Además, también está permitida la participación de nuevas empresas editoras y productoras con menos de cinco años de antigüedad, así como galerías que presenten proyectos compatibles con el espíritu del Salón y las condiciones del mismo.
Inscripciones abiertas 'online' a partir de octubre
El Salón nude abrirá el período de inscripción el próximo 1 de octubre y hasta el 30 del mismo mes los interesados deberán rellenar una ficha de preinscripción disponible on line el apartado nude de la web www.feriahabitatvalencia.com. Una vez realizada la inscripción deberá imprimirse la ficha con todos los datos del participante y adjuntarla al proyecto físico que deberá presentarse vía postal entre el 2 y el 9 de noviembre en Feria Valencia. Este consistirá en una memoria descriptiva en cartón pluma tamaño DIN A3 así como un CD con los productos en formato jpg.
Posteriormente y una vez recopilados todos los candidatos, un Comité de Selección formado por profesionales de prestigio dentro del ámbito del diseño evaluará los proyectos y determinará los seleccionados a participar del 9 al 13 de febrero de 2015 en esta consolidada plataforma para el diseño.
Los interesados pueden descargarse íntegramente las bases en este enlace: http://www.nudegeneration.com/wp-content/uploads/bases-nude-20161.pdf
[/tp] [tp not_in="es"]
The show reaches its fourteenth edition and is reasserting its commitment to integrate all of the sectors proposed in Habitat, Cevisama y Fimma – Maderalia into its shop window.
Feria Habitat Valencia launches its fourteenth edition of the nude event, the most relevant platform of the new habitat design which takes place annually in Spain.  In 2016 it will be held from 1 to 5 February, again within the framework of the 'See you in Valencia' Initiative that will host the joint celebration in Feria Valencia of the fairs Habitat, Cevisama and Fimma – Maderalia, for the third consecutive year.
The consolidation of the commitment that makes up 'See you in Valencia' focus on a comprehensive showcase for architecture, interior design and design, is clearly visible in an event like nude Show.  Every year it gathers together young international designers and design schools around new proposals of design for interiors, and has gradually opened itself up to all sectors that make those fairs become a shop window.
The next edition of the nude Show will include all product families that professionals will be able to see in Cevisama, Hábitat and Fimma – Maderalia.  That is, furniture and other fittings, lighting, home textiles, bathroom and kitchen equipment, ceramic coverings, locksmithery articles, fittings and ironwork, construction carpentry and joinery, doors, windows, cabinetry, wooden ladders and beams.  An overall vision that will also have its translation into groundbreaking proposals.
Generating innovation and creativity
The show will have its own its own dedicated space in Feria Hábitat Valencia, and is set up as an innovation and creativity incubator.   In the last thirteen editions, it has featured a significant share of the designers and studios that are now at the forefront of the national and international design landscape.
The Show has consolidated its role as an exhibition framework where young international designers and professionals of the interior design world can meet, and an entry way in search of new business opportunities, offering the New Designers the occasion to meet manufacturers and distributors.
In the launch of the open call for the 2016 edition of the Show, students, young designers and international young creatives and design schools, may participate, as stated in the rules of the competition, that have already been published.  Additionally, the participation of new producing and publishing companies – less than five years old- as well as galleries submitting projects that are compatible with the spirit and purpose of the Show and its terms and conditions is permitted.
Registrations will open 'on-line' in October
The Nude Show will open the registration period on 1 October next and until the 30 October, participants interested must fill in an advance registration form available on-line in the Nude section of the Feria Website: www.feriahabitatvalencia.com.  Once the inscription is made, the file must be printed including all of the participant's details and it should be attached to the physical project, that should be submitted by ordinary mail between the 2 and 9 of November at Feria Valencia.  This will be made of a descriptive memory DINA3 foamboard, and a CD including the products images in jpg format.
Subsequently and, when all applicants have been checked, a selection committee, comprised of prestigious design professionals, will assess the projects and determine those selected to participate from 9 to 13 February, 2015 in this well-established design platform.
Applicants may download the rules of the competition in full, by clicking on this link:http://www.nudegeneration.com/wp-content/uploads/bases-nude-20161.pdf
[/tp]